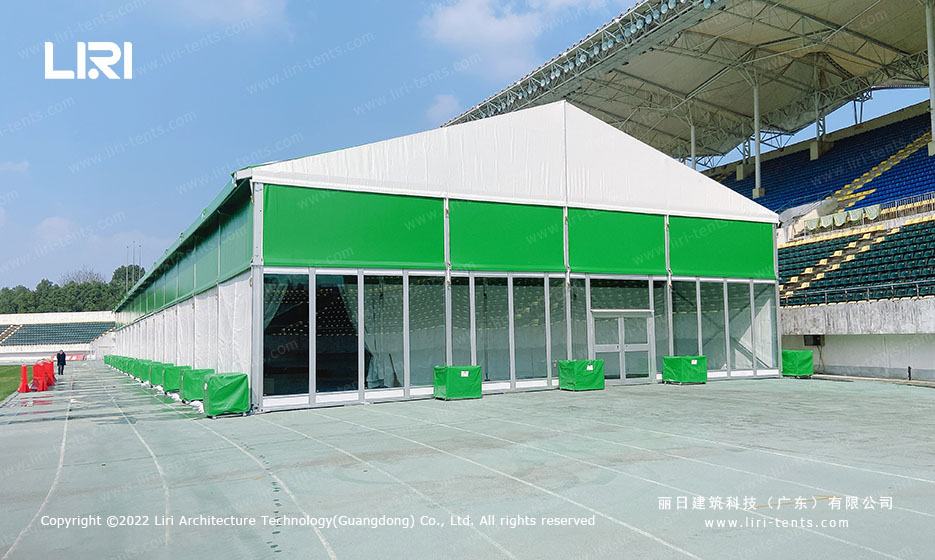 People who love to play basketball have a worry – they can't find a basketball court. A well-equipped basketball court is hard to book, and a simple basketball court may be overcrowded. So, where can you find a basketball court with relatively complete equipment and a relatively perfect venue?
We have developed a sports event tent that can solve the problem of the lack of sports venues. Making full use of every "unused" space in the city, event tents can be installed even on the roofs of buildings and under flyovers.
why you need a tent for sporting events
Unlike fixed building stadiums, sports event tents are very mobile and can be set up anywhere. You can install the tent in different places such as sports field, coagulation field, grass and so on. In addition to basketball stadiums, they can also be converted into tennis stadiums, horse training grounds, indoor soccer fields, and other sports venues.
The tent has a very strong functional extension, such as a basketball court, basketball frame, and audience sitting platform can be added. All the equipment of professional venues can be installed in temporary event tents one by one.
Our sports event tent uses a high-strength aluminum alloy bracket, which has good resistance to pressure and strong wind. With PVC fabric PVDF coating material, it is treated with special anti-mildew and has excellent waterproof and anti-UV performance. Miraculously, there is not a single pillar covering the interior, and the space can be used 100%. Basketball frame and basketball court floor can be planned by site, which greatly saves space and cost.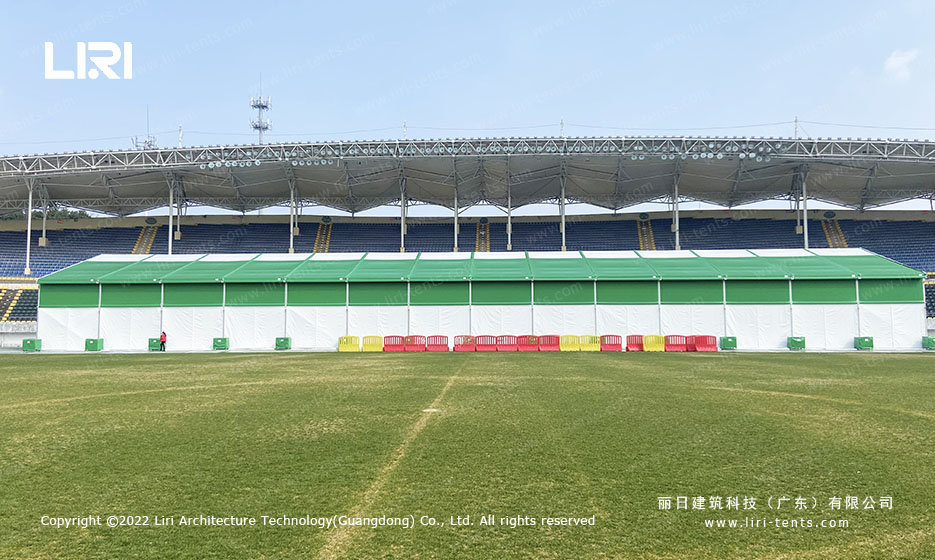 The four sides of the tent can be fully opened to allow light sources to shine into the room and maintain air circulation. Aluminum alloy door frames and windows can also be used on all four sides to save light source costs in summer and keep the room warm in winter. When holding large events, the size can be widened with a span of 5 meters to meet the demand for temporary space.
We have 15x25m and 15x40m sports event tents for sale.
Sports Event Tent Series Specifications
| | | | | |
| --- | --- | --- | --- | --- |
| Span Whidth | Eave Height | Ridge Height | Bay Distance | Main Profile |
| 30m | 4m | 8.9m | 5m | 350x120x5mm (4 - channel) |
| 40m | 4m | 10.5m | 5m | 350x120x5mm (4 - channel) |
| 45m | 4m | 11.38m | 5m | 350x120x5mm (4 - channel) |
| 50m | 4m | 12m | 5m | 350x120x5mm (4 - channel) |
| 60m | 4m | 13.6m | 5m | 350x120x5mm (4 - channel) |