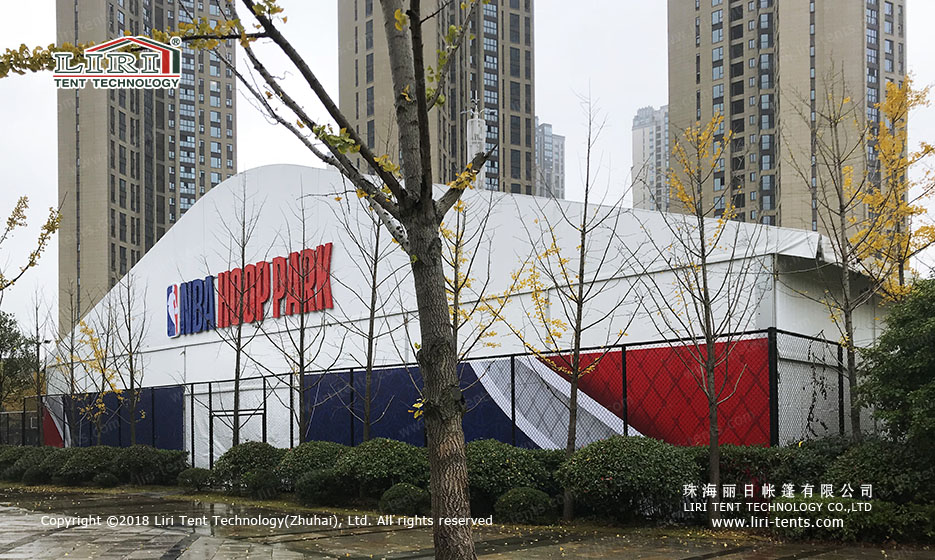 Fitness is a popular topic. However, fitness gyms are very limited and most of them are outdoor fitness venues. If it is a hot day, rain, wind, or snow will not be available.
We have a range of sports arena tents which can be used for basketball, football, tennis, swimming pools and much more. Inside the tents, you can perfectly install areas such as equipment rooms, kiosks, stands, etc. It can even be used as a sports hall for official matches. In fact, these tents are now used for most street games.

What Is the Cost Of a Sports Arena Tent?
Converting an outdoor venue into an indoor gymnasium can be a significant expense in terms of construction lead time, raw materials, and labor costs. However, the basketball tent takes just over 10 days from production to completion of the erection. All the tent materials and frames can be completed in the factory, saving labor costs significantly.
Our Sports Arena Tent focuses on fast build, customization, flexibility, and reusability. Indoor stadiums can be built by using different idle terrain in the city, even the roof space. The whole construction period only takes one week from establishment to completion, which can be put into use quickly.

Will It Stand Up To High Winds?
The main frame of the tent is made of aluminum alloy, steel parts are connected and the base is fixed, the mechanical properties are strong and the wind resistance can reach 8-10 levels, the aluminum alloy is light and easy to transport, and the roof has a special internal cross-pull wire rope for snow resistance.
We offer a series of modules and multi-function sports arena solutions as temporary or permanent structures, Sports Arena Tent can create a barrier-free space inside, and at the same time can customize different indoor heights to meet different sports needs.
What Special Decorative Features Are Available?
The venue can be surrounded by additional lounge seating and the interior of the tent can be fitted with a range of facilities and equipment such as LED lights, ceiling fans, and air conditioning.
Event-Tent not only offers tents for basketball courts, but also for badminton, volleyball, football, swimming, and many more. Common tent shapes are herringbone roofs, peach roofs, and curved roofs. There are also a variety of tent walls to choose from, such as glass walls, abs panels, sandwich panels, etc.
The flexibility of sports event tents is also commendable. They can be customized and erected to fit different venue requirements and event sizes, and they can be set up and taken down quickly. This is important for organizations that frequently host sporting events or need to set up their venues quickly. At the same time, the reusability of tents makes them a cost-effective option, saving event organizations money and reducing their environmental impact.