With summer approaching,auto show,RV organized exhibition is in full swing in various regions,which is a feast for the eyes for many fans. The fans also had a wonderful driving experience. At an auto try-out driving show that held some time ago,a series high-end event tents provided by Liri Tent,which really makes the show with the most popular fashion,entertainment element and give consumers a different kind of fashion show experience.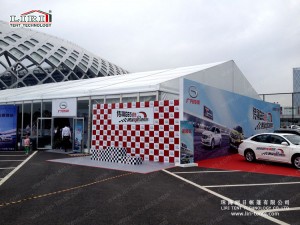 Volkswagen show use a large area of event tents as the display vector. There is facade advertising display outside the tent.
Inside the tent,vehicles,exhibition display,3D big screen throughout the day to play the Volkswagen interactive display advertising and live video. There are also AR augmented reality experience game open all the day,3D racing games,puzzles and other advertising activities.
Beijing Hyundai Motor show tent. After watching the drivers performance,people entered the event tents for the test drive. During the test drive,all prospective owners were full of praise for the ninth Sonata. Fashion design,practical configuration,clearly shows the recent advances in automotive design and manufacturing standards,the ninth Sonata is one of the best.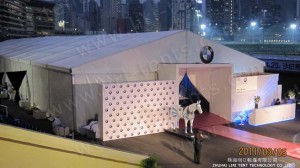 Guangzhou Trumpchi auto show tents,separate sun room dining area with French window,clean and comfortable,which make the customers feel relaxing. During the tour activities,the sponsor purchased insurance of the test drive for each customer who participate in the activities,and provided five-star buffet tea break and catering for every customer.
Direct: +86-756-6320926          Mobile/whatsapp: +86-18818651021
E-mail: tent67@liri-tents.com    Skype: tent67
https://www.eventtentsforsales.com/liri-marching-toward-an-innovative-and-changeable-journey-along-with-canton-fair.html