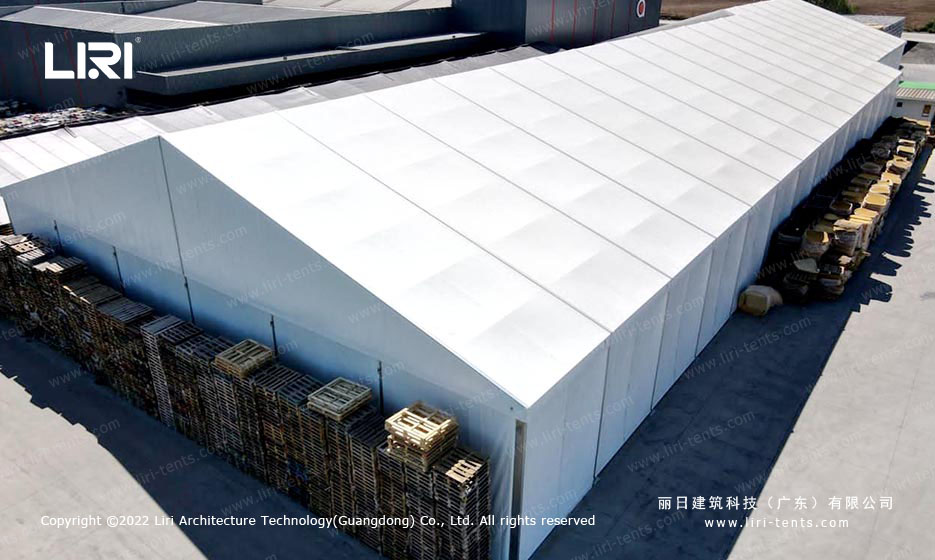 Liri's industrial warehouse tents and storage tents are the ideal choices in the industry. We sell all sizes of clear span tents. Industrial warehouse tents and storage tents provide you with short-term and professional temporary warehouse workshops.
High-quality warehouse tents with electrical equipment, roof hangers, insulated walls and wide door frames. The warehouse tent can be an ideal alternative space to a professional warehouse when there is insufficient space in the warehouse. Aluminium entrances and exits can be accessed by bespoke trucks at no extra cost.



Flexible clear span warehouse tents for sale
The Liri warehouse tent is made from reinforced aluminium alloy and double PVC fibre fabric, with the addition of optional equipment to improve practical functionality. It can be used as a temporary outdoor office, or a temporary warehouse, providing an efficient and adaptable temporary space. For the storage of materials, supplies and equipment, as well as simple temporary production workshops.
Eaves heights: from 2.60m to 8.00m.
Clear span widths: from 10m to 60m.
Shape: A-frame clear span construction or a combination of different roof forms.
Wind resistance: up to 100 km/h winds.
Need more information? Please contact us.