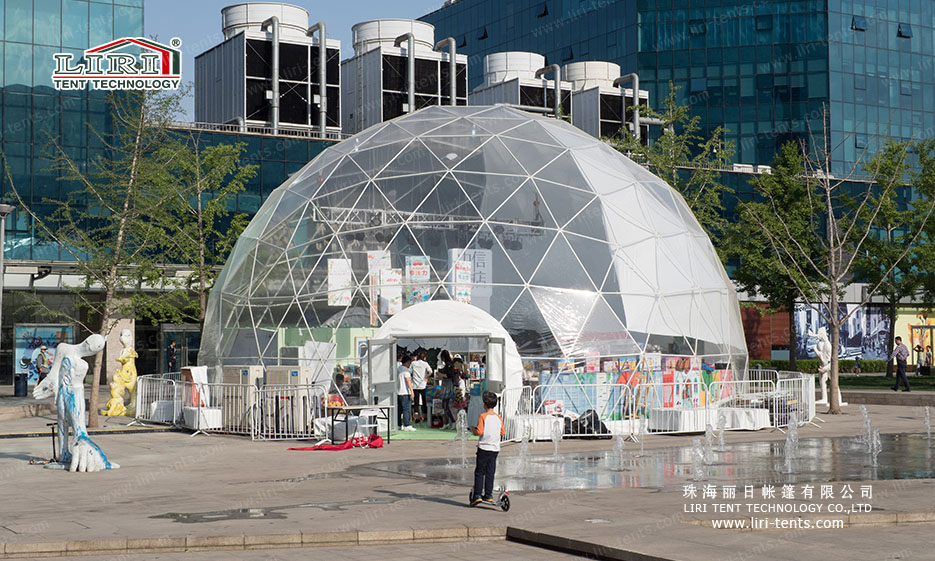 We are a professional manufacturer of frame tents. Long-term supply and construction of frame tents for weddings, parties, superstores, and temporary events. Our frame tents are pre-fabricated at the factory and quickly assembled on-site. Even 1000 square meters can be set up in a day.

This is a translucent dome tent that can accommodate up to 200 people. With a diameter of 12 m and an inner height of 7 m, it has no interior poles to cover it and the space is almost 100% used. The interior is completely unrestricted in its arrangement. The dome tent is based on the triangular cross-fixing principle and has a lofty overhead space.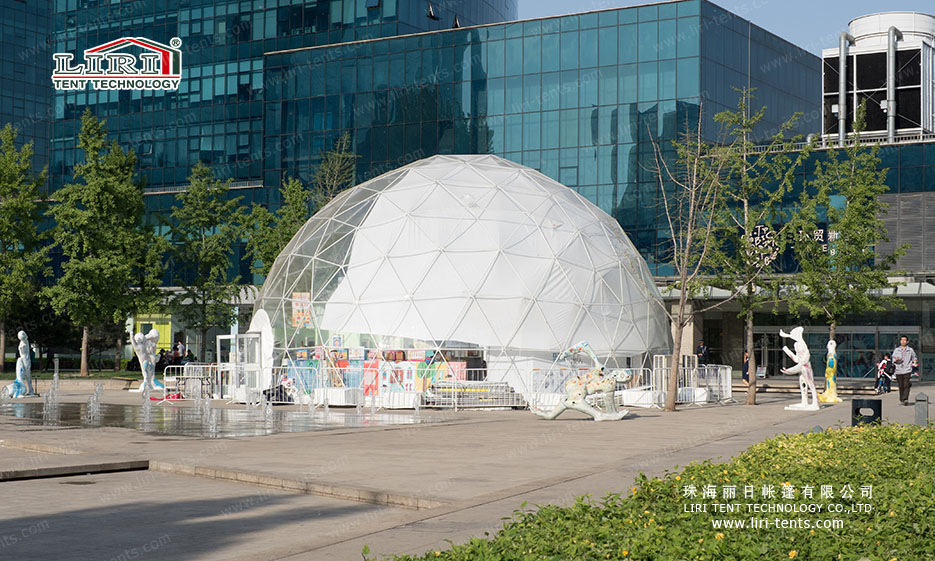 Decorative Concept Of Translucent Tent
The translucent tarp has good light transmission, but it has some ability to resist UV rays, which makes a big difference from direct exposure to the outdoors. And the percentage of transparent tarpaulin is chosen from 30% to 70%.
The interior of the tent is usually stuffy in the sun. The modular tent can be replaced with different glass door frames, aluminum door frames, ABS solid walls, French doors, etc. Different interior decorations can bring different experiences to customers.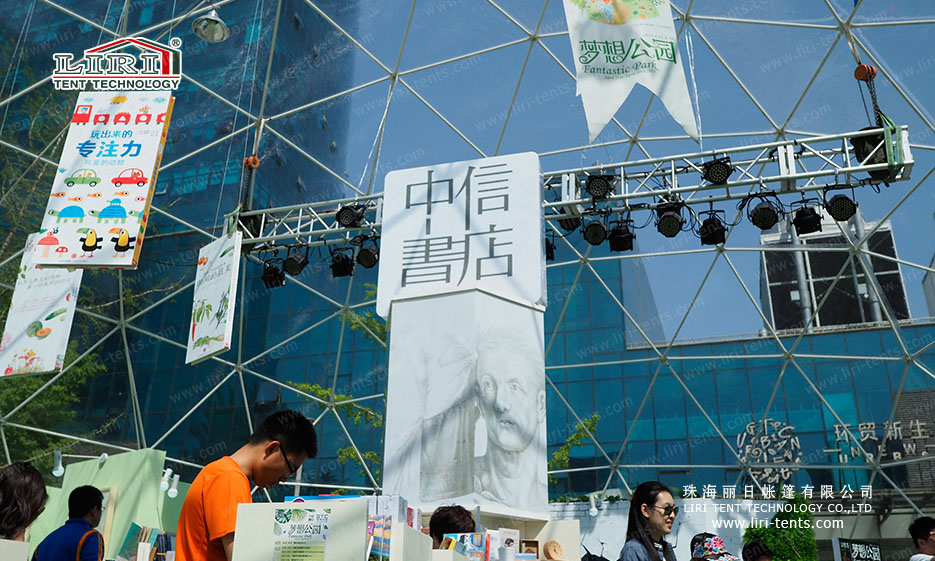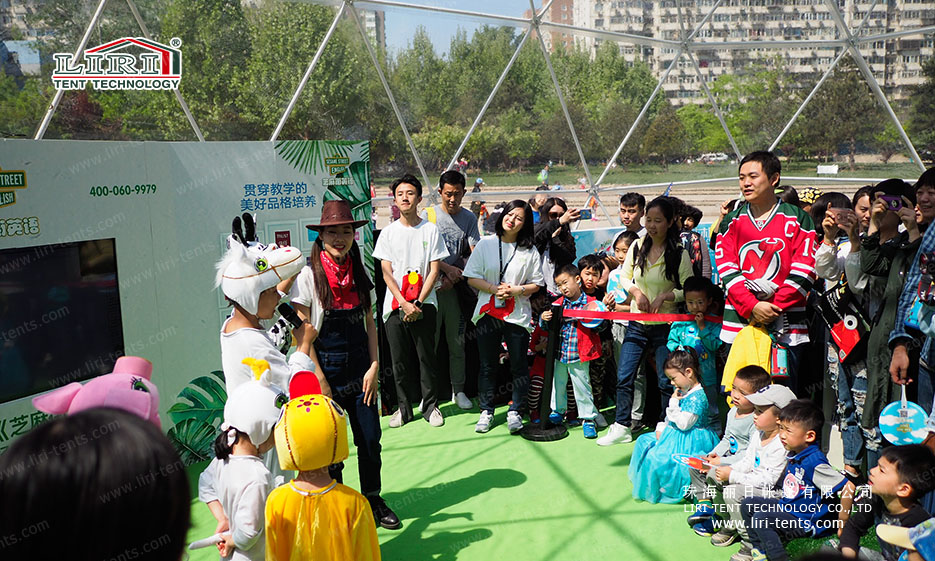 Translucent Dome Tent Specifications
| Diameter | Ceiling Height | Floor Area | Volume | Struts Details |
| --- | --- | --- | --- | --- |
| 3m | 2.3m | 7.1m² | 12.7m³ | 20mm |
| 4m | 2.89m | 12.6m² | 28m³ | 20mm |
| 5m | 2.93m | 19.6m² | 41m³ | 20mm |
| 6m | 3.52m | 28.3m² | 70m³ | 20mm |
| 7m | 4.1m | 38.5m² | 110m³ | 26mm |
| 8m | 4m | 50.2m² | 134m³ | 26mm |
| 9m | 4.5m | 63.6m² | 191m³ | 26mm |
| 10m | 5m | 78.5m² | 262m³ | 26mm |
| 11m | 5.5m | 95m² | 348m³ | 26mm |
| 12m | 6m | 113m² | 452m³ | 33mm |
| 13m | 5.82m | 132.7m² | 545m³ | 33mm |
| 14m | 6.27m | 153.9m² | 685m³ | 33mm |
| 15m | 6.72m | 176.6m² | 845m³ | 33mm |
| 16m | 7.16m | 201m² | 1030m³ | 33mm |
| 17m | 8.5m | 226.9m² | 1285m³ | 33mm |
| 18m | 9m | 254.3m² | 1525m³ | 33mm |
| 19m | 9.5m | 283.4m² | 1795m³ | 33mm |
| 20m | 10m | 314m² | 2090m³ | 38mm |
| 21m | 10.5m | 346.2m² | 2420m³ | 38mm |
| 22m | 11m | 379.9m² | 2785m³ | 38mm |
| 23m | 11.5m | 415.3m² | 3180m³ | 38mm |
| 24m | 12m | 452.2m² | 3615m³ | 38mm |
| 25m | 12.5m | 490.6m² | 4090m³ | 48mm |
| 30m | 13m | 706.5m² | 5744m³ | 48mm |
| 35m | 14m | 961m² | 8170m³ | 48mm |
| 40m | 15m | 1256m² | 11191m³ | 51mm |
| 45m | 18m | 1589.6m² | 17367m³ | 48mm |
| 50m | 20m | 1962.5m² | 23823m³ | 48mm |
| 55m | 22m | 2374.6m² | 21710m³ | 48mm |
| 60m | 25m | 2826.0m² | 43524m³ | 51mm |