Clear Top tents must be made of good quality for them to last long and provide adequate protection, it can be applied to different industries and for different events.
They are made in various designs and patterns and can be chosen based on the purpose they are intended to be used for. Gardens in homes can be designed to have tents that can provide shaded seating space for people to sit down and enjoy their morning or evening tea.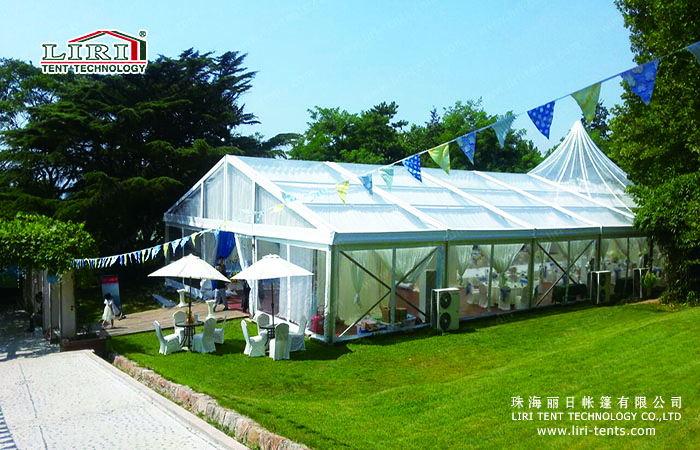 Clear Top tent also offer a covered yet aerated seating space among an abundance of greenery and flowers. This is a good way to relax and calm the nerves. These are made from a variety of fabrics and are easy to set up and dismantle. Waterproof materials are used for making tents so that they can withstand the moisture of rains and do not get drenched and soaked in water.
This is both a clear top and a clear span event tent. The excellent performance can make it suitable for various industries and for different events.
12x30m Clear Top Event Tent Feature
Frame struts: hard pressed extruded aluminum 6061/T6(15HW).
Fabric cover: high quality double PVC-coated polyester textile; 100% waterproof; flame retardant to DIN4102 B1, M2, CFM; UV resistant, tear-resistant, self-cleaning ability, etc.
Connector: strong hot-dip galvanized steel.
Allowed temperature condition: -30 degrees Celsius +70 degrees Celsius.
Wind load: max. 100km/h.
Snow load: 75kg/sqm (snow can't stay if use big degree roof pitch design).
Easy to assemble and disassemble.
No pole inside, 100% available interior space.
Please be free to contact us for more information.
Terry Yuan – Zhuhai Liri Tent Technology Co., Ltd.
Mobile/WhatsApp: +86-135 7066 9856; Skype: tent72
E-mail: tent72@liri-tents.com