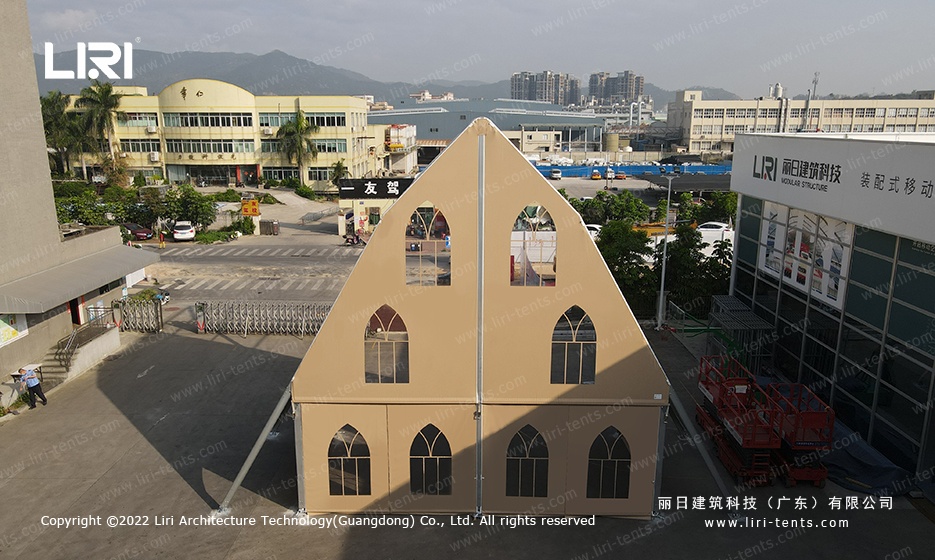 Churches are the most sacred and trustworthy places in the minds of the people and are important places of worship and prayer. This church tent with a span of 20x40m reaches a height of 18.8m at the sides and can accommodate about 1000 people for church events.
The large church tent is made of high-strength aluminum alloy, which makes it look taller and more layered. The material can provide it with stable wind and vibration resistance and retains a 20-year service life. There is also a white double-layer PVC covering material with excellent performance, which can easily cope with exposure, high temperature, yellowing, and other problems.
We have developed this large church tent. The novel and tall appearance are fully in line with the national aesthetics.  Our innovative church tents are welcomed by religious places all over the world.

Large Church Tent Features
Frame struss: hard pressed extruded aluminum 6061 /T6(15HW) which can last more than 20 years.
Fabric cover: high quality double PVC-coated polyester textile, 100% waterproof, flame retardant to DIN4102 B1, M2, CFM, UV resistant, tear-resistant, self-cleaning ability, etc.
Connector: strong hot-dip galvanized steel.
Allowed temperature condition: -30 degree Celsius~+70 degree Celsius.
Wind load: max. 100km/h.
Snow load: 75kg/sqm (snow can't stay if use big degree roof pitch design).
Quick assembly and disassembly.
No pole inside, 100% available interior space.
Widely used for Weddings, Events, Parties, Celebrations, Sports, Trade shows, Warehouses, etc.
It can accommodate about 1,000 people.
This product has obtained a national patent, patent number: ZL201720905593.5

Large Church Tent Specification
| | | | | |
| --- | --- | --- | --- | --- |
| Span Whidth | Eave Height | Ridge Height | Bay Distance | Main Profile |
| 10m | 4.1m | 11m | 5m | 204x120x4mm (4 - channel) |
| 15m | 4.1m | 13.4m | 5m | 204x120x4mm (4 - channel) |
| 20m | 4.1m | 16.4m | 5m | 256x121x5mm (4 - channel) |
| 25m | 4.1m | 18.8m | 5m | 256x121x5mm (4 - channel) |