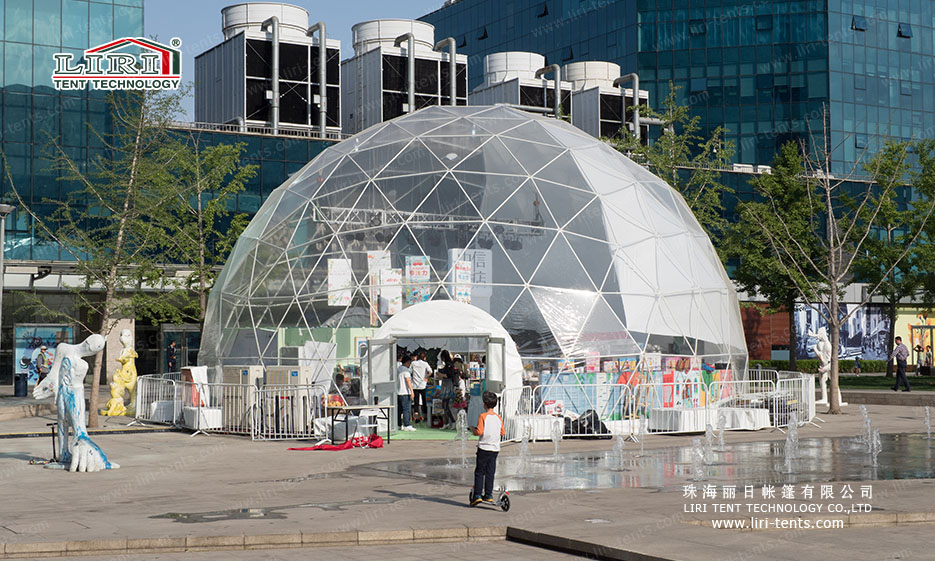 We are a manufacturer of frame tents and have 25 years of experience in the construction of frame tents, and solutions for weddings, parties, fairs, and other temporary events. Pre-fabricated tents are becoming increasingly popular for their ease of transport, construction, and versatility, with the entire tent set up in just one day.

This translucent dome tent for 200 people measures 12m in diameter and 7m in height and is suitable for temporary fashion events. It has no pillars inside, and the display boards, bookshelves, and green carpet can be arranged flexibly. Customized from 3m to 60m in diameter.

Decorative Concept Of Translucent Tent
The translucent tarp has good light transmission, but it has some ability to resist UV rays, which makes a big difference from direct exposure to the outdoors. And the percentage of transparent tarpaulin is chosen from 30% to 70%.
The interior of the tent is usually stuffy in the sun. The modular tent can be replaced with different glass door frames, aluminum door frames, ABS solid walls, French doors, etc. Different interior decorations can bring different experiences to customers.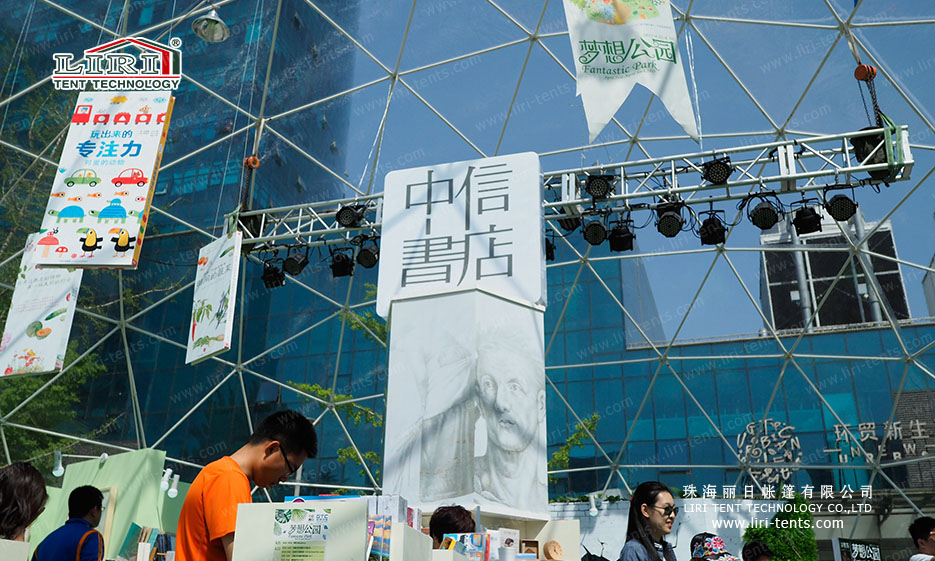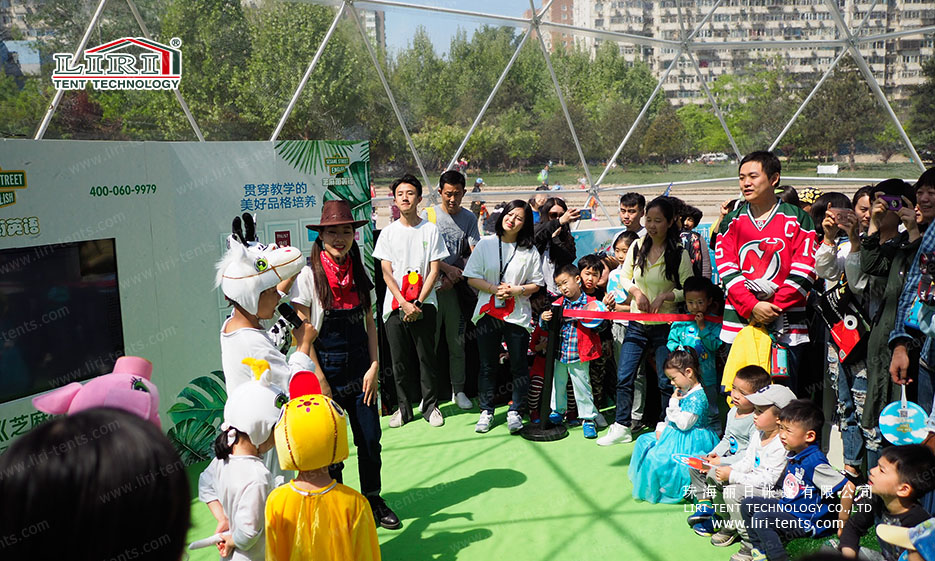 Translucent Dome Tent Specifications
| Diameter | Ceiling Height | Floor Area | Volume | Struts Details |
| --- | --- | --- | --- | --- |
| 3m | 2.3m | 7.1m² | 12.7m³ | 20mm |
| 4m | 2.89m | 12.6m² | 28m³ | 20mm |
| 5m | 2.93m | 19.6m² | 41m³ | 20mm |
| 6m | 3.52m | 28.3m² | 70m³ | 20mm |
| 7m | 4.1m | 38.5m² | 110m³ | 26mm |
| 8m | 4m | 50.2m² | 134m³ | 26mm |
| 9m | 4.5m | 63.6m² | 191m³ | 26mm |
| 10m | 5m | 78.5m² | 262m³ | 26mm |
| 11m | 5.5m | 95m² | 348m³ | 26mm |
| 12m | 6m | 113m² | 452m³ | 33mm |
| 13m | 5.82m | 132.7m² | 545m³ | 33mm |
| 14m | 6.27m | 153.9m² | 685m³ | 33mm |
| 15m | 6.72m | 176.6m² | 845m³ | 33mm |
| 16m | 7.16m | 201m² | 1030m³ | 33mm |
| 17m | 8.5m | 226.9m² | 1285m³ | 33mm |
| 18m | 9m | 254.3m² | 1525m³ | 33mm |
| 19m | 9.5m | 283.4m² | 1795m³ | 33mm |
| 20m | 10m | 314m² | 2090m³ | 38mm |
| 21m | 10.5m | 346.2m² | 2420m³ | 38mm |
| 22m | 11m | 379.9m² | 2785m³ | 38mm |
| 23m | 11.5m | 415.3m² | 3180m³ | 38mm |
| 24m | 12m | 452.2m² | 3615m³ | 38mm |
| 25m | 12.5m | 490.6m² | 4090m³ | 48mm |
| 30m | 13m | 706.5m² | 5744m³ | 48mm |
| 35m | 14m | 961m² | 8170m³ | 48mm |
| 40m | 15m | 1256m² | 11191m³ | 51mm |
| 45m | 18m | 1589.6m² | 17367m³ | 48mm |
| 50m | 20m | 1962.5m² | 23823m³ | 48mm |
| 55m | 22m | 2374.6m² | 21710m³ | 48mm |
| 60m | 25m | 2826.0m² | 43524m³ | 51mm |