Church will be very imporant to pray and for your activicties, therefore, how to make a church tent with a convenient way and with a economical price will be very important. Tent has become a very popular temporary sturcture for different kinds of activities, therefore, church tent will be a very good option.
White Marquee Tent for Church  are available in clear span width of 20m, 25m, 30m and more. . All of the big tent with a standard side height of4m. 20x50m White Marquee Tent for Church  are a modular design which can be increased or decreased in 5m.
The main frameworks (upright support and roof beam) are manufactured with 4 channels in the size of 152x119x4mm hard pressed extruded aluminum.
The sidewalls and the roof covers are manufactured with 850g/m2 PVC-coated polyester textile and flame retardant to DIN4102 B1, M2. It is easy to assemble and dismantle as well as convenient to store because of its small volume. It has a wind load of 100km/hr. The fabric is available in both block-out and translucent.
20x50m White Marquee Tent for Church are available with a complete range of accessories.
Accessories include: (Arial Bold)
Sidewalls with clear windows.
Ground anchors.
Weight plate.
Lining.
Glass wall system.
Glass door units.
ABS walling system.
Full clear covers and sidewalls.
Flooring system.
Rain gutter system.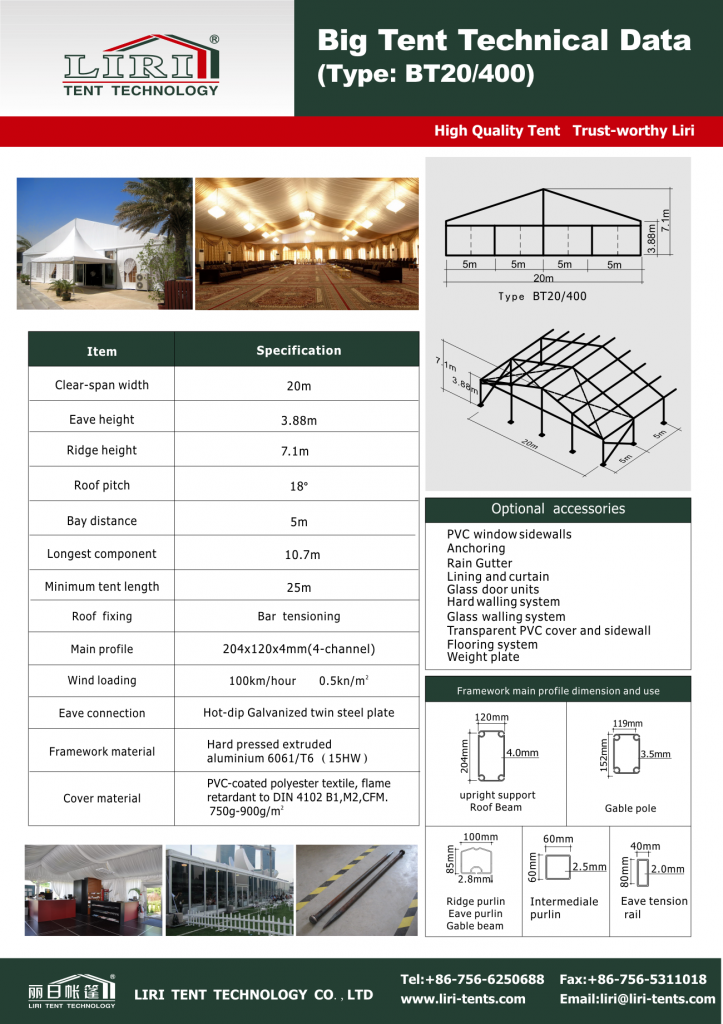 For More Information of 20x50m White Marquee Tent for Church  Tent Please Contact Us!
Chloe: tent70@liri-tents.com
Mobile/whatsapp: 0086 18818650996
Skype: tent70