Liri-tent high quality Arcum Double Decker based on our arcum tent structure is a new design conformed with the structure principle of Double Decker.This Arcum Double Decker Tent (Model:ADDS) is also made from a modular system like traditional clear span structure. The length can be extended by 5m bay section without a limit and it is the same as the normal structures. ADDS Arcum shape model clear span which can be from 15m to 30m. The main profile is 300x120x5/8mm.
Arcum Double Decker tent flame material adopt Reinforced aluminum alloy 6061/T6 extruded profile,surface anodized finish,and Roof Covers and side walls are 850g/m2 PVC-coated polyester textile flame retardant to DIN4102 B1,M2. Besides,the flooring structural support adopt our high quality wooden beams and the second floor system adopt 28mm thick waterproof splint. Liri Tent double decker tent is always strong and durable with its 100km/h wind speed resistance. The tents special design for ADDS with curved beams and roof bar tensioning system which helps it to resist higher wind speed and snow loading capacity.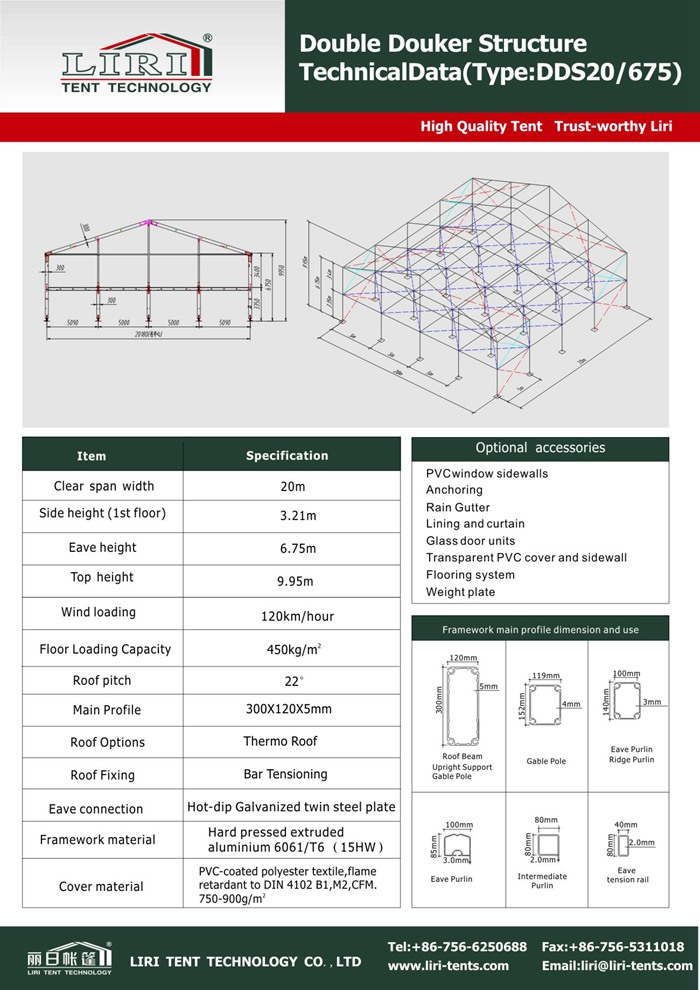 Normally, this arcum double decker tent with nice appearance and Fine line roof arcum sharp has no poles in the interior of the structure which makes it more spacious than other pole tent, frame tent, or steel tent designs. Also you can charge arcum roof sharp into A-sharp tent easily and practicably.This arcum double decker tent can help you expand the "active area" when your actual area is limited, which means you can utilize double space and aera from one projected area. This structure helps it become a place of high class for events like golf, horse racing, car racing, and so on.
There are many accessories for this arcum double decker structure. These accessories are aluminum stairs inside or outside the tents, sidewalls with clear PVC church windows, ground anchor, lining and curtain, glass wall system, ABS hard wall system, sandwich wall system, steel sheet wall system, glass doors, sliding doors, electromotion rolling door system, transparent roof cover and sidewalls and flooring system.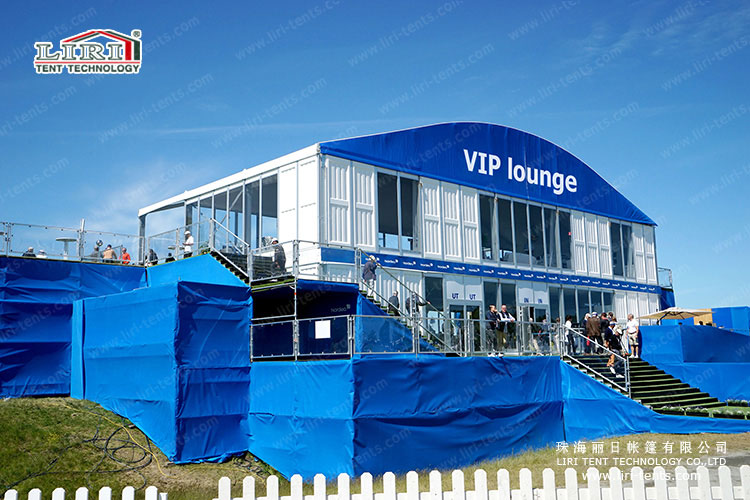 For more information please contact us!
tent67@liri-tents.com Mobile/whatsapp: +86-18818651021 skype: tent67