1. Application:
The tent, canopy, and marquee tent can be widely used as the wedding tents, parties marquee tent, exhibition tents, conferences marquee tents, festivals celebrations canopy, corporate events tents, or other outdoor events canopy, etc.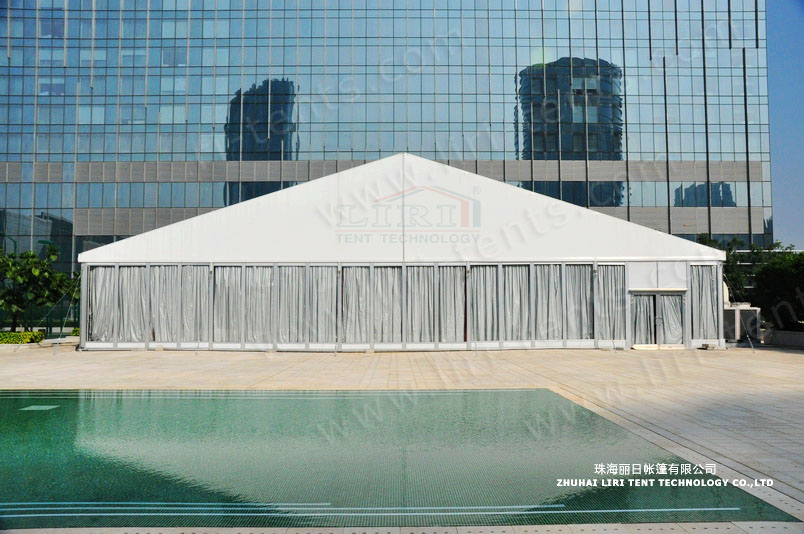 2. Size:
The clear span of the tent is from 10m to 25m, the length could be expandable by  5m, with no limitation.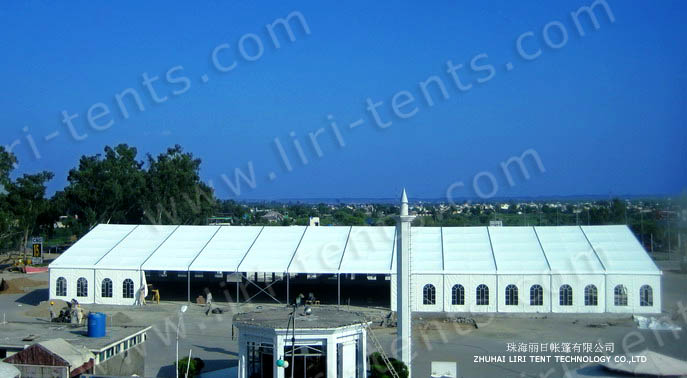 3. Specification:
Fabric: Double PVC coated polyester fabric, 750-900g/sqm, waterproof, UV resistance, fire retardant according to standard NFPA701, CFM & DIN4102 B1/M2
Frame: Hard pressed extruded aluminum 6061/T6, anodized surface finishing.
Connections: Hot-DIP galvanized
Mainframe profile size: 204X120X4mm
Wind load: 100km/h
4. Life span:
Fabric (cover & sidewalls): 10years if well maintained.
Aluminum frame and galvanized connectors: 20years if well maintained.
5. Color available:
White, red, yellow, blue, green, black, grey, transparent, etc
6. Optional Accessories:
1)Sidewall-White PVC wall, transparent PVC wall, colorful PVC sidewall, ABS wall, Glass wall, Sandwich wall, Steel wall.
2)Windows-Clear PVC window, breathable glass window.
3)Floor-Normal cassette floor system, VIP cassette floor system.
4)Door-Double-wings glass door, Double-wings fire glass door, Double-wings aluminum door, Automatic rolling door, one man door.
5)Decoration curtain and linning-Flat or pleated.
6)Furniture-Round tables, chairs, stages, and etc…
7)Electric equipment-Air conditioner, lighting system.
8)Others-printing Ads, artificial grass, ramp, transport rack, etc.
7. Certificates:
1)ISO 9001: 2008 quality control standard
2)Exclusive Tent Supplier for international sports games like the Asian Games 2011, Shenzhen Universiade, Canton Fair since 2003
3)China Association for Exhibition Centers
4)Proud member of worldwide industry associations like industrial fabrics association international proud member, the American Dental Association, and MID-A Atlantic tent renters association
5)Fabric test report— Flame retardant (American Standard)
6)Lining fabric test report flame retardant—(American Standard)
7)Certificate aluminum (American Standard)                                                                                                                                                                           8)Certificate of Adequacy for Design of Temporary Structures(wind load)(Australia Standard & America standard)                                                 9)Calculation report ( Australia Standard & America standard )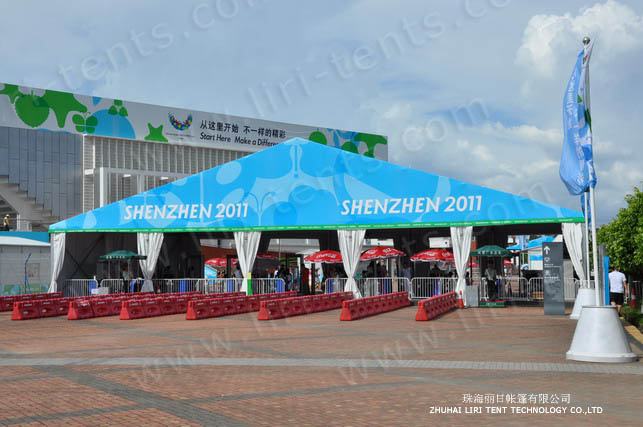 8. Installation of tents, canopies, and marquee tents:
We will provide you the installation manual in English and Russian. The supervisor will be available if needed.
9. Package of Liri Tents, Canopies, and Marquee tents
1) Aluminum Frame–membrane film
2)Hardware–solid carton box
3) Tent cover–PVC carries a bag.