1. Application:
The dome big tent can be widely used for weddings, parties, exhibitions, conferences, festivals celebrations, cafe shops, restaurants, corporate events, or other events, etc
2. Specification for the big tents (DBT series):
For details, pls refer to the below chart:
Mainframe profile size for DBT series: 204X120X4mm
Wind load: 100km/h
Minimum tent length: In order to reach the designed wind load and make sure the tent is safe, pls set up the tent with the required minimum tent length.
3. Optional Accessories:
Ground anchor, anchor puller, weight plate, glass door, fire door, glass wall, ABS hard wall, lining, flooring system, clear PVC windows, ramp, transport rack, etc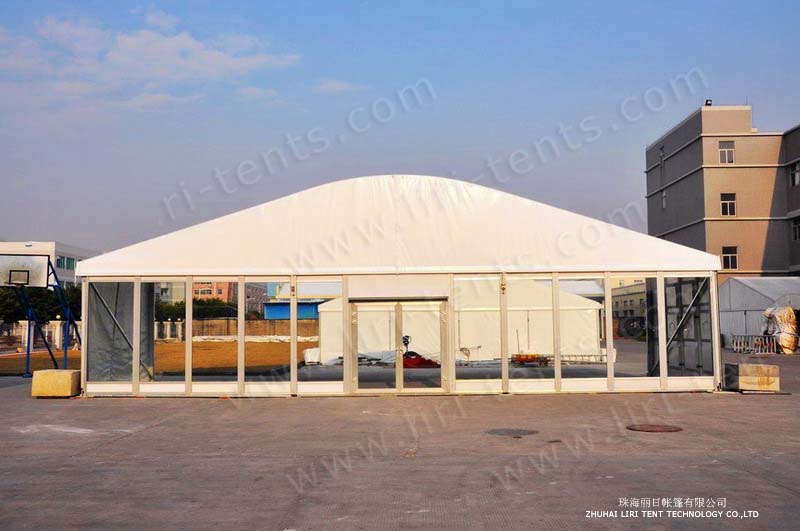 4. Materials:
Fabric: Double PVC coated polyester fabric, 650-900g/sqm, waterproof, UV resistant, fire retardant according to standard NFPA701, CFM & DIN4102 B1/M2
Frame: Hard pressed extruded aluminum 6061/T6, anodized surface finishing.
Connections: Hot-DIP galvanized
5. Color available: White, red, yellow, blue, green, black, grey, transparent, etc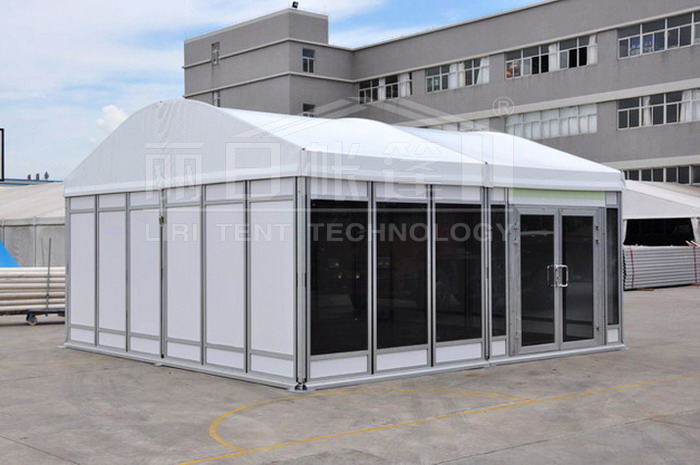 6. Products certificate:
Fabric: Test reports for the fire retardant, standards: NFPA701, CFM & DIN4102 B1/M2
Structure safety: Certificates by the registered engineers in the U. S. A & Australia.
If the customers need a copy of the above certificate, pls feel free to contact Liri Tent Technology. We will not show them on the website to avoid copies.
Model
Clear span
Length
Bay
Eave
height
Ridge height
Longest component
Minimum tent length
DBT10/400
10m
unlimited
5m
3.88m
4.94m
9.2m
20m
DBT15/400
15m
unlimited
5m
3.88m
5.73m
9.2m
20m
DBT20/400
20m
unlimited
5m
3.88m
6.53m
9.2m
25m
DBT25/400
25m
unlimited
5m
3.88m
7.33m
11.2m
30m
Rainbow (Ms.)
Direct: +86-756-6320950                                Email: tent65@liri-tents.com
Mobile/Whatsapp: +86-135-7066-9565     Skype: tents65