1. Application of  Special Design Cube Structure  Tent  15x15m
The Thermo Roof Cube Structure Tent series are available in clear span width of 10m 15m 20m 25m 30m, and the main profile size is 256x121x5mm.
The characteristics of our thermo roof cube structure tent are as below:
1.The roof of the tent is made by thermo insulated PVC fabric, with heat insulation, preservation and thermostatic effect.
2.The roof is flat with 7° roof pitch. It is worth mentioning that there is a tippet on the eave of the tent, after improvement and innovation, we increase the space for the banner advertising, providing our customer with the platform to print Ads on the tents.
The Thermo Roof Cube Structure Tent series is very stable and durable, and the wind loading can be 100km/hour, o.5kn/㎡, easy to assemble and disassemble, and easy to store. It's widely used for all kinds of outdoor temporary events, and it is your good optional solutions for both temporary and permanent buildings.
Cube Tent has many accessories, such as sidewalls with clear PVC church windows, ground anchor, lining and curtain, glass wall system, ABS hard wall system, sandwich wall system, steel sheet wall system, glass doors, sliding doors, electromotion rolling door system, transparent roof cover and sidewalls and flooring system ect.
Here comes some pictures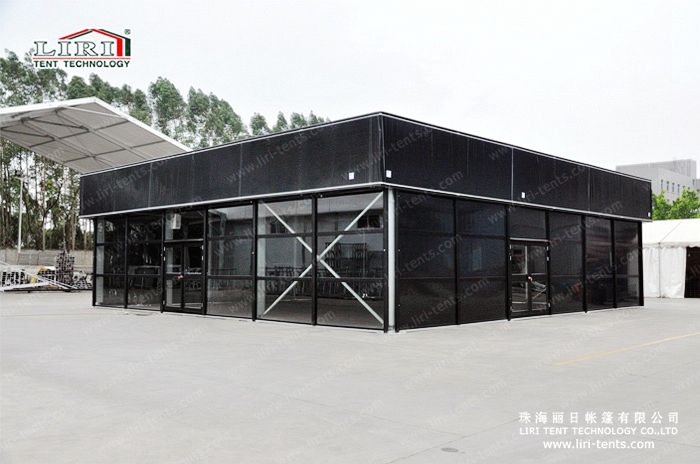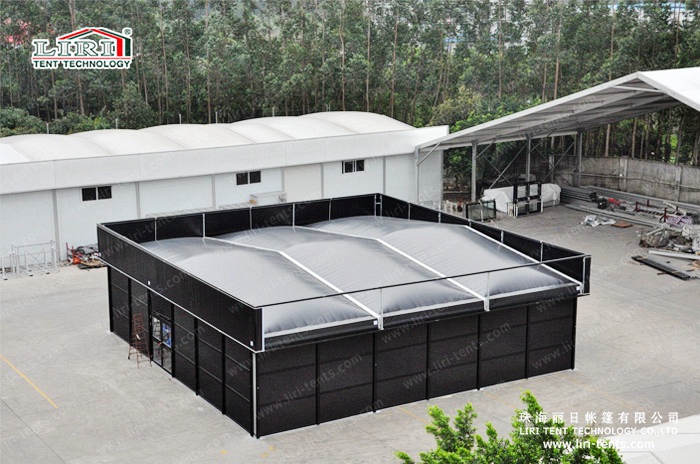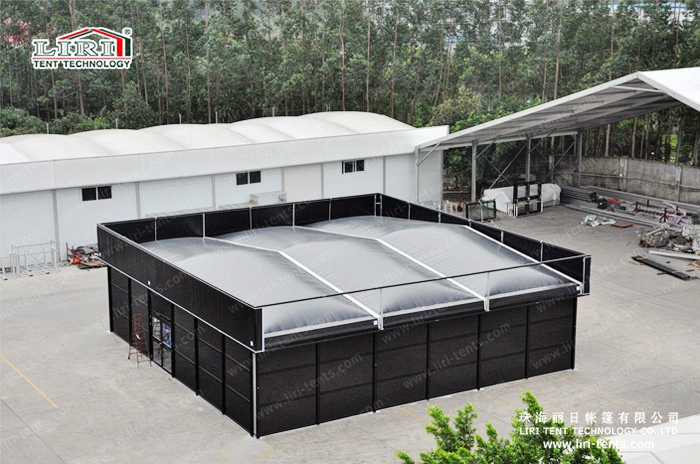 Technical Data of  Special Design Cube Structure  Tent  15x15m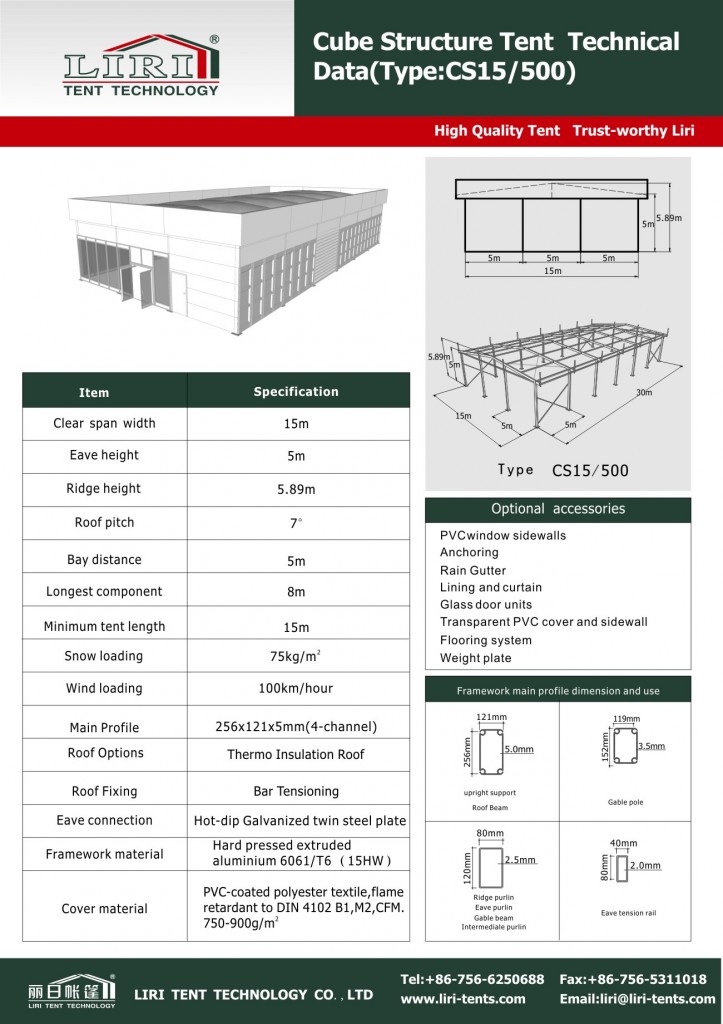 2.More details of  Special Design Cube Structure  Tent  15x15m
Frame struss: hard pressed extruded aluminium 6061/T6(15HW) which can last more than 20 years.
Fabric cover: high quality double PVC-coated polyester textile, 100% waterproof, flame retardant to DIN4102 B1, M2, CFM, UV resistant, tear resistant, self-cleaning ability, etc.
Connector: strong hot-dip galvanized steel
Allowed temperature condition: -30 degree Celsius~+70 degree Celsius
Wind load: max. 100km/h (can be reinforced)
Snow load: 75kg/sqm (snow can't stay if use big degree roof pitch design)
Easy to be assembled and dismantled, movable.
No pole inside, 100% available interior space.
3.Packaging & Delivery
Packaging Details:
1.outdoor tent of Aluminum frame packed in membrane film
2.Hardware packed in solid carton box
3.Roof and sidewall in professional PVC carry bag.
Delivery Detail: In 20~25 days after order
Shipping details :
We can ship the goods by Courier, such as DHL, TNT, FedEx, UPS if the quantity is small; For the large goods, we will ship them by air or sea as you requirement.
---
We are on big sale for these span width tents. Pls contact us for a competitive price.
Contact Person: Lily Zhuang
Mail: tent67@liri-tents.com
Facebook: tent67@liri-tents.com
Phone/Whats app: +86 135 7066 9565
Website: http://www.liri-structure.com
---
FAQ
Q: Can you print our logos on tent?
Yes.Customized logos can be print on the tent fabric according to your requirements.
Q: Is that factory price?
Yes.We assure you all prices are based on factory.
Q: Does your tent be able to install repeatedly?
Our tents can be assembled and dismantled and repeatedly with small transportation size.The lifespan of aluminium framework can reach 15-20 years,and 5-8 years for PVC fabrics depending on different conditions of usage.
Q: What documents are available?
A full range documents including structural drawings,packing list,installation manual and relative certificates can be provided.Moreover,customs declaration is provided.We provide one-stop service for you.
Q: What size tent is necessary for your special event?
A person must first determine tent usage. If a tent is being used for dining purposes and round tables are being used allow 10-12 square feet per person. If banquet style tables are being used allow 8-10 square feet per person.If the purpose is for cocktail service allow five to six square feet per person. Contact us for all your specific questions and more information on tent types.
Q: Has your tent product been certified?
Yes.Our tent product has passed the engineering tests and gained the America And Australia structural engineering certificates. Besides, the PVC fabric used for roof covers and sidewalls has passed the fire tests and gained the flame retardant certificates issued by America, Australia, New Zealand, and Britain.
Q: Is your tent strong and stable enough? How about the wind loading?
Yes.The main frameworks (upright support and roof beam) are manufactured with high impact extruded anodized aluminum (6061/T6) so our tent structure is safe and strong and can resist wind up to 100 km/hr.
Q: How long is the warranty period?
Guarantee one year. During the warranty period, we shall repair or replace the damaged part accordingly because of any damage due to quality problem.