1. Features:
The attached photos show a very special and the latest design — Double Deck Tent. Such a design provides you more space and a unique appearance. Additionally, tent accessories glass wall, ABS hard wall, glass door, handrail, and decoration liner are available.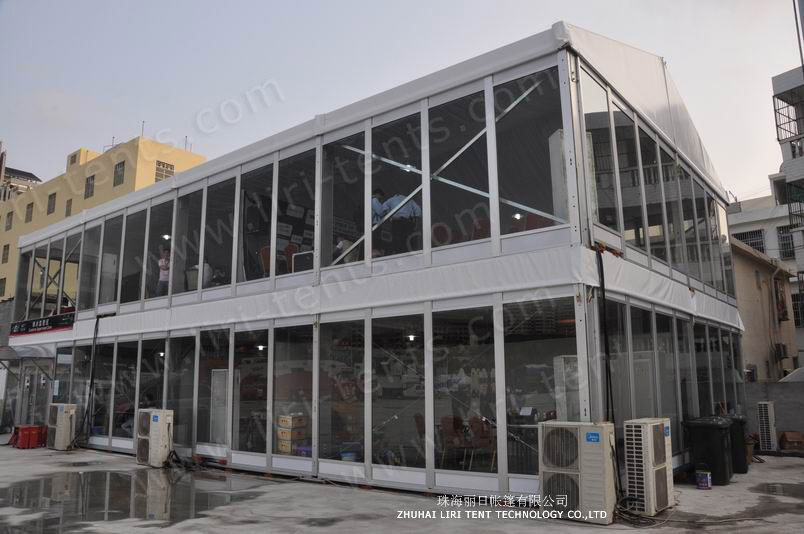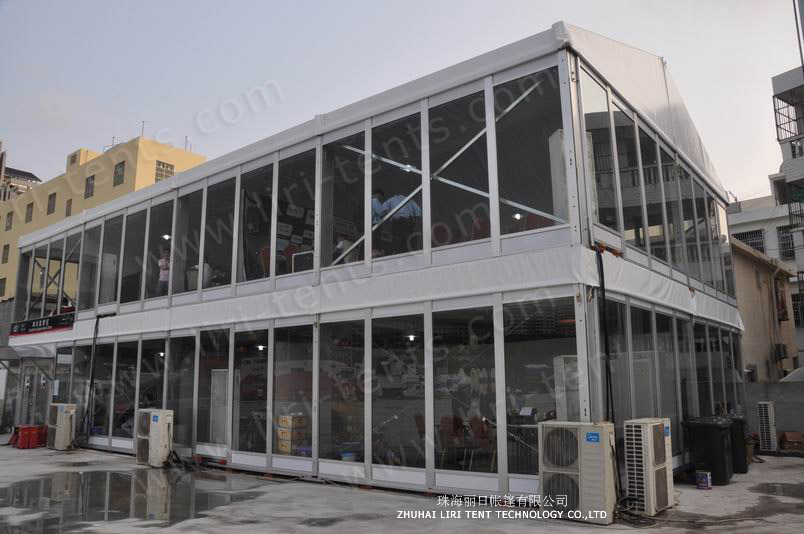 2, ) Because of the height of the second floor, it's the best choice for horse racing, car racing, etc…
3, ) Its clear span width is available in 10m-40m, the length is unlimited, can be expandable by 5m.
2.  Application:
The double-decker structure can be widely used for weddings, parties, exhibitions, conferences, festivals celebrations, cafe shops, restaurants, corporate events, horse racing or other events, etc
3.  Specification for the double-decker structure
Mainframe profile size for BT series: 300X120X5mm
Wind load: 100km/h
Minimum tent length: In order to reach the designed wind load and make sure the tent is safe, pls set up the tent with the required minimum tent length.
4 . Optional Accessories:
Ground anchor, anchor puller, weight plate, glass door, fire door, glass wall, ABS hard wall, lining, flooring system, clear PVC windows sidewalls, ramp, transport rack, indoor stairs & outdoor stairs, etc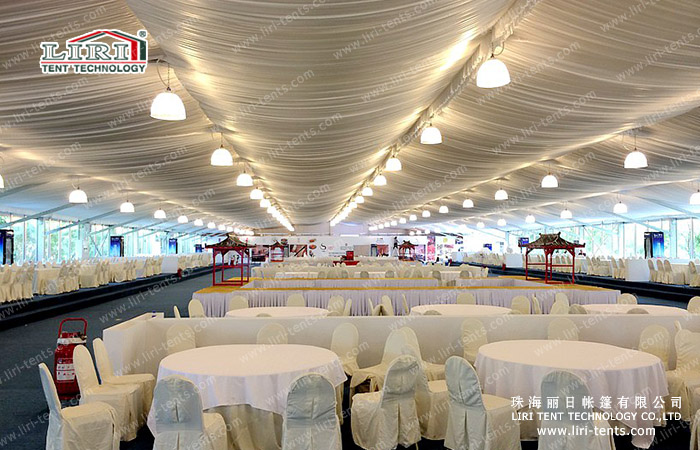 5. Materials:
Fabric: Double PVC coated polyester fabric, 750-900g/sq. M, waterproof, UV resistance, fire retardant according to standard NFPA701, CFM & DIN4102 B1/M2
Frame: Hard pressed extruded aluminum 6061/T6, anodized surface finishing.
Connections: Hot-DIP galvanized
Upper flooring: 28mm waterproof plywood
FAQ
Q1:Can you print our logos on the tent?
Yes, customized logos can be print on the tent fabric according to your requirements.
Q2:Is that a factory price?
Yes, we assure you all prices are based on the factory.
Q3:Does your tent be able to install repeatedly?
Our tents can be assembled and dismantled and repeatedly with a small transportation size. The lifespan of the aluminum framework can reach 15-20 years, and 5-8 years for PVC fabrics depending on different conditions of usage.
Q4:What documents are available?
Full range documents, including structural drawings, packing list, installation manual, and relative certificates can be provided. Moreover, a customs declaration is provided. This is a one-stop service for you.
Q5:What size tent is necessary for your special event?
A person must first determine tent usage. If a tent is being used for dining purposes and round tables are being used allow 10-12 square feet per person. If banquet style tables are being used allow 8-10 square feet per person. If the purpose is for cocktail service allow five to six square feet per person. Contact us for all your specific questions and more information on tent types.
For more information, please contact me
Company Name: Zhuhai Liri Tent Technology Co., Ltd.
Sales: Rainbow Liu
Tel: +86-756-6320950
Mobile: +86-135 7066 9565
Skype: tents65
What's App: +86-135 7066 9565