The Double Decker structure was designed by Liri Tent in 2012; it created a brand new market in the Chinese structure industry.
The Double Decker originally came from Germany, but now the chief engineer and owner Mr. Liang has designed and produced it in China. The product has a good reputation in both China and around the world.
The Double Decker is defined as a structure that is made out of two floors but the actual Double Decker is divided into two types.
1. DDS A shape model clear span which can be from 10m to 30m. The main profile is 300x125x5/8mm.
2. ADDS dome shape model clear span which can be from 15m to 30m. The main profile is 300x125x5/8mm.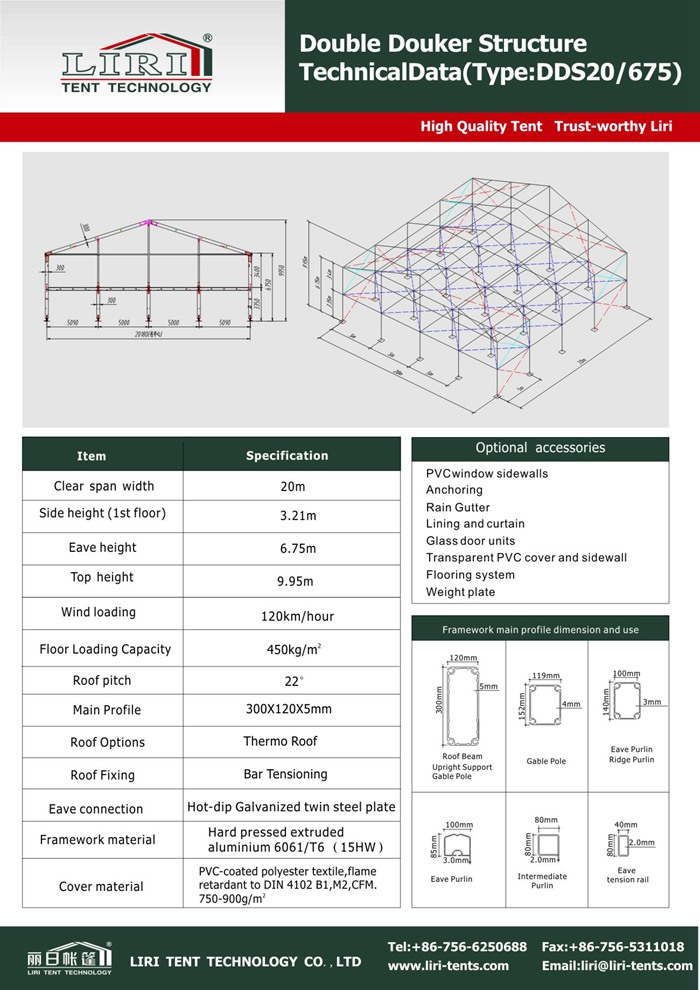 The double decker frame is also made from a modular system like traditional clear span structure. The length can be extended by 5m bay section without a limit and it is the same as the normal structures. The normal structures have many optional accessories to make it multi-functional. These options include clear roof or wall, stakes, weight plates, silk lining, glass/ABS hard wall and door system, sandwich panel wall, steel panel wall, sliding door, rolling shutter, flooring and guttering system, round ends, front view balcony, stairs,and one bay out entrance.
Liri Tent double decker is always strong and durable with its 100km/h wind speed resistance. The tents special design for ADDS with curved beams and roof bar tensioning system which helps it to resist higher wind speed and snow loading capacity.

Normally, the double decker has no poles in the interior of the structure which makes it more spacious than other pole tent, frame tent, or steel tent designs. This structure helps it become a place of high class for events like golf, horse racing, car racing, and so on.
Terry Yuan
Zhuhai Liri Tent Technology Co., Ltd.
Skype: tent72
Mobile/whatsapp: +86-135 7066 9856
E-mail: tent72@liri-tents.com