Every year in the peak season of the Chinese 11.11 Shopping Festival, E-Commerce owners have to face lots of pains, such as explosive growth in orders, logistics and tight capacity, storage resource scarcity, inadequate stocking funds, etc.
According to the State Post Bureau forecast, this year's "double 11" express shipments during the entire industry are expected to reach 760 million, over a 40% increase comparing last year.
This amount of nearly 800 million of goods to go through the "Order", "warehouse", "distribution" and other sectors, which raise a question of whether E-Commerce owner can bear the stress.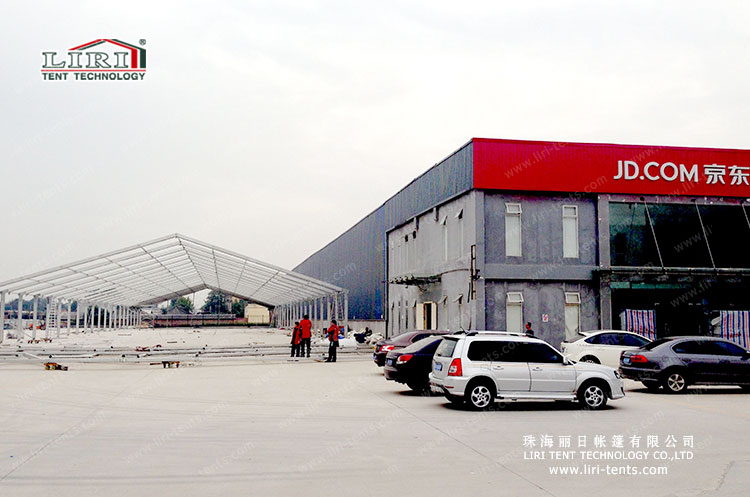 Recently, Liri Tent provides temporary storage solutions for the well-known E-Commerce platform JD Mall. Liri warehouse tent is a good solution to the surging demand for storage in peak shopping season like "double 11". We can finish tent installation and dismantle depending on different needs at different times of storage tents. Besides, thanks to the short construction period, our tents can be erected at any time after disassembly elsewhere.
There are many advantages of using tent structures as storage, such as low cost, short construction period, recyclable, light transportation, free of the building site. Moreover, it can be tailored according to the site, pre-sale, sale, sale, and a full range of turnkey projects.
Our storage tents are with materials of the strong aluminum frame to against rust, wind, fire, and lifespan can be more than 30 years. Since there is no pillar inside the tent, 100% space utilization. In a word, aluminum structure tent is much flexibility and economical compared to the traditional steel structure.
Liri's storage tent can fit multi-functional systems like lighting, fire protection, monitoring, drainage, electricity, ventilation, access control, lightning stroke protection. Our new storage space and fast removable storage solution make storage more economical can convenient. Liri Tent, as China leading brand and global storage solution for leading companies, has been provided comprehensive storage solutions for Fortune 500 companies such as Gree, Coca-Cola Group, the Guangdong International Logistics, Anheuser-Busch InBev.