Half Sphere Tent has been called "the  most spacious, lightest, most effective design", which is rigid and stable structure.
Application,
Its unique and beautiful shape, variety fabric design style makes sphere tent the first choice for high-end users who advocate high quality events.Sphere tent create the perfect solution for make your event special. Sphere design is widely used in various events, large-scale exhibitions, celebrations, outdoor activities.
Materials,
It is made of special high-strength steel tube with zinc plated or painted. The roof cover adopts PVC fabric.
Sizes,
| | | |
| --- | --- | --- |
| Diameter (m) | Ridge Height (m) | Area (sqm) |
| 6 | 3 | 28 |
| 8 | 4 | 50 |
| 10 | 5 | 78 |
| 12 | 6 | 113 |
| 15 | 8 | 177 |
| 20 | 10 | 315 |
| 25 | 13 | 490 |
| 30 | 15 | 706 |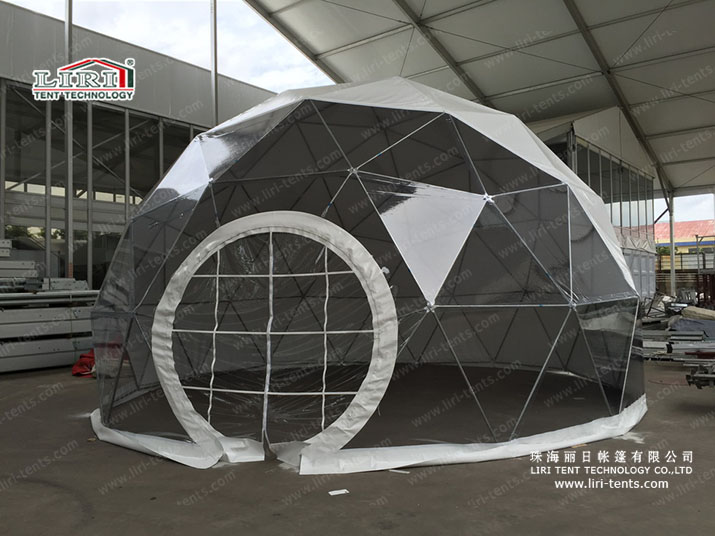 Optional Accessories,
1. Cover: colorful cover, transparent cover, inflatable cover
2. Windows: dome or square clear PVC windows, mesh window, glass window         for glass wall
3. Wooden Flooring System: VIP cassette flooring, simple cassette flooring
4. Doors: double-swing glass door, single-swing glass door, glass fire door,                aluminum door, rolling shutter (automatic or manual)
5.Wall: soft PVC fabric wall, glass wall, ABS hard wall, sandwich panel wall,              steel plate wall
6. Rain Gutter: inner roof beam rain gutter or rain gutter between two similar                                   tents
For more informations, please contact me,
Company Name: Zhuhai Liri Tent Technology Co., Ltd.
Sales: Rainbow Liu
Tel: +86-756-6320950
Mobile: +86-135 7066 9565
Skype: tents65
What's app: +86-135 7066 9565
https://www.eventtentsforsales.com/double-decker-tent-for-high-class-horce-racing-car-racing.html