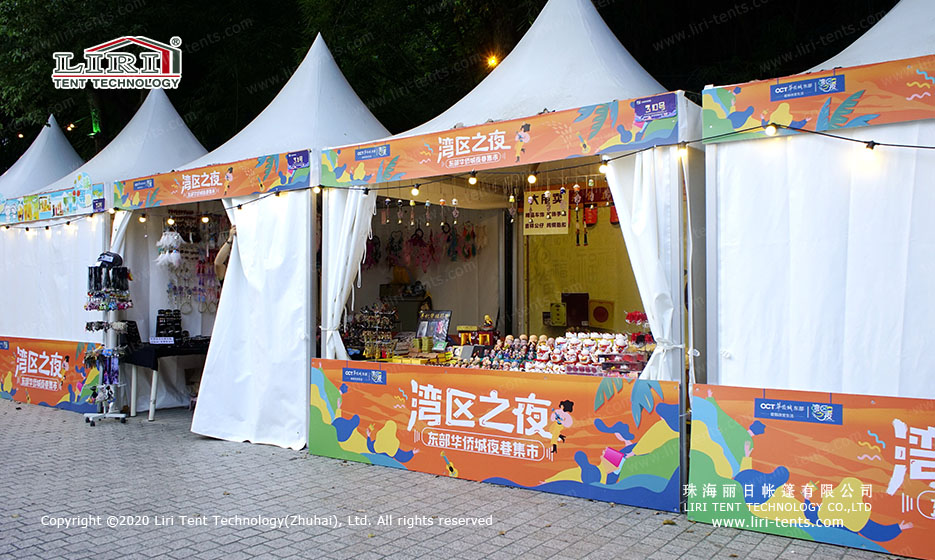 Mini Pagoda tent is one of the tent types favored by customers, and customers often appreciate it. It has a European-style high peak shape, and more importantly, the overall frame design is light and simple, making the tent more flexible and convenient in storage and transportation. Mini Pagoda tents are widely used in various types of events, food parties, commercial streets, exhibitions, etc., providing them with a perfect temporary space solution.
What's interesting is that there is a cube under the Mini Pagoda tent, and multiple tents can be assembled into various shapes according to actual needs, such as Long line-shaped, square-shaped, and cross-shaped. The internal space of the combined Mini Pagoda tent has been increased several times, and windows can be opened in multiple directions. It is worth noting that adding a PVC Rain Gutter on the eave beam between 2 tents could effectively prevent water accumulation and avoid stains so that the outside of the tent can always be kept clean.
Mini Pagoda tents are available in a variety of sizes which you could choose. The conventional specifications are 2.5m×2.5m, 3m×3m, 4m×4m, 5m×5m. We can also provide professional pagoda tent size customization services to meet the diverse needs of customers as much as possible.
You may have noticed that various commercial patterns or logos can be Painted on the blank spaces of the eave and roof cover, highlighting the difference, attracting people's attention more effectively, and invisibly increasing the commercial value.
At the same time, not only need to pay attention to the appearance but also the interior decoration is also particularly important. It is easier to retain our clients in a comfortable environment. Therefore, we provide more accessories to further improve the internal space. For example, transparent PVC window sidewalls, ground anchors, weight plates, Roof linings and curtains, glass walls, ABS walls, sandwich walls, glass doors, sliding doors, rolling doors, transparent roof covers and sidewalls, flooring systems and rain gutter systems, etc., Let customers experience a different tent from the inside to outside.
| | | | |
| --- | --- | --- | --- |
| Span Whidth | Eave Height | Ridge Height | Main Profile |
| 2m | 3.65m | 2.3m | 55x55x2mm (4 - channel) |
| 2.5m | 3.93m | 2.3m | 55x55x2mm (4 - channel) |
| 3m | 4.12m | 2.3m | 55x55x2mm (4 - channel) |