Exhibition event tent rental is an emerging industry because it ensures the exhibitions are impacted by weather factors in an ideal place. What's more, tents need to be set up for use in the exhibition period only. Nowadays, what do we need to be concerned about among lots of exhibition tent rental companies? Several key factors play an important role including the staff for tent set up, routine maintenance, and durability.
First, all the exhibition tent rental companies should be equipped to build a team with capable staff. They can set up any size tents from their own company varied from pagoda tents for small parties to large tents to housed hundreds of people. It not only ensures the proper and safe installation for mobile tents but also can reduce the time for tent setup.
LIRI's engineering team have been serviced the Canton, Auto exhibition and other large-scale exhibitions many years and able to set up thousands of area in square meters efficiently and correctly. In addition, we are flexible enough to ensure the tent setup process under a variety of adverse weather.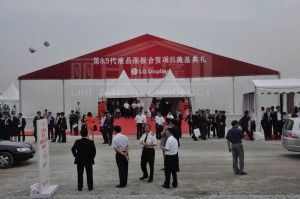 Secondly, it is required to have regular inspection and maintenance immediately after the exhibition tents usage. It needs to be checked whether there is a tarp break or tear and clean stains on the PVC surface. A break tarp on the cover will not only affect the structural strength but also let the rain into the tent which will affect the normal exhibition activities. PVC should be cleaned even if only a little dirty on the tent surface. Moreover, it should have the breach repaired as soon as possible.
Last but not least, durability is one of the significant factors for rental tents. It can save time and money with durable tents. As high-tech enterprises in Guangdong Province, LIRI Tent insists to apply the highest quality materials to create the highest quality tents. In normal usage, the lifespan for LIRI's PVC fabric is 5-8 years and 15-20 years for an aluminum frame.
Zhuhai Liri Tent Technology Co., Ltd.
Skype: tent72
Mobile/WhatsApp: +86-135 7066 9856
E-mail: tent72@liri-tents.com