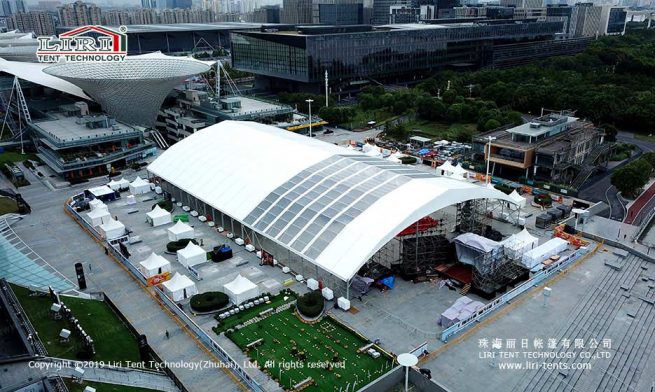 With the increase in modern business events, it is especially important to find a temporary event space for them. Today we explore how to book a large event tents for an exhibition. And whether it is always necessary to set up a large tent?
Why would you choose a large event tents?
Whether it's an exhibition event or a mall theme event, it's usually held outdoors or at a temporary venue. This is when the risk of sun exposure, high winds, and rain will exist. Imagine holding an event day, hundreds of customers, guests, company executives present in this weather outdoor venue, what is
What kind of experience. In addition to the characteristics of the event itself, how do make the guests feel good about the theme event quickly? The outdoor exhibition event will give priority to
The first consideration is a large event tent that can block the sun and shelter from the rain.
This is the most secure solution.
Is it necessary to set up a large event tent?
The answer is not necessarily. There are many factors to consider when setting up a large outdoor tents. For example, wind resistance, terrain, climate, and human factors. If you choose an unsuitable tent, it is not good for the image of the company.
For months and cities with stable weather, it is easier to determine the weather and suitable site a week in advance. For winter, tornado wind, and stormy season, then it needs to be determined two weeks in advance. You should not even pitch your tent in extreme weather. Another thing is that mountains and deserts should not be set up in large tents.
Economy and practicality are the highest criteria for consideration. Therefore, in addition to large event tent sales, tent manufacturers also have tent and tent equipment rental services. Tents are sold with a warranty of three to five years, during which time repairs can be called in after the sale. Tent rentals are generally available for seven days as a cycle, and can also be renewed for another lease period.
How far in advance to book a large event tent
Tent manufacturers are not simply businessmen who erect and recycle tents. They can provide you with site measurement, and understanding of transportation routes The tent manufacturer can also provide you with detailed work such as site measurement, understanding of transportation routes, circuit design, and supply of accessories. The preliminary work seems to be simple, but in fact, there are especially many trivial matters. This prep work should be understood thoroughly before you can agree to sign the tent contract. When the above are done, the event planner will have time to do the rest of the work of this event more perfectly.
Small events, theme events of less than 200 people three days in advance to complete the business contract. Large-scale activities, exhibitions of more than 1000 people in advance A month before the booking and contract will be more secure.
In addition to the tent frame, there are tent shade cloth, edges, windows, power lines, and ventilation equipment that need to be prepared and planned. If If the event is held at night, you can also book a full transparent tent to increase the atmosphere of the tent at night.
For more information, please contact us now.