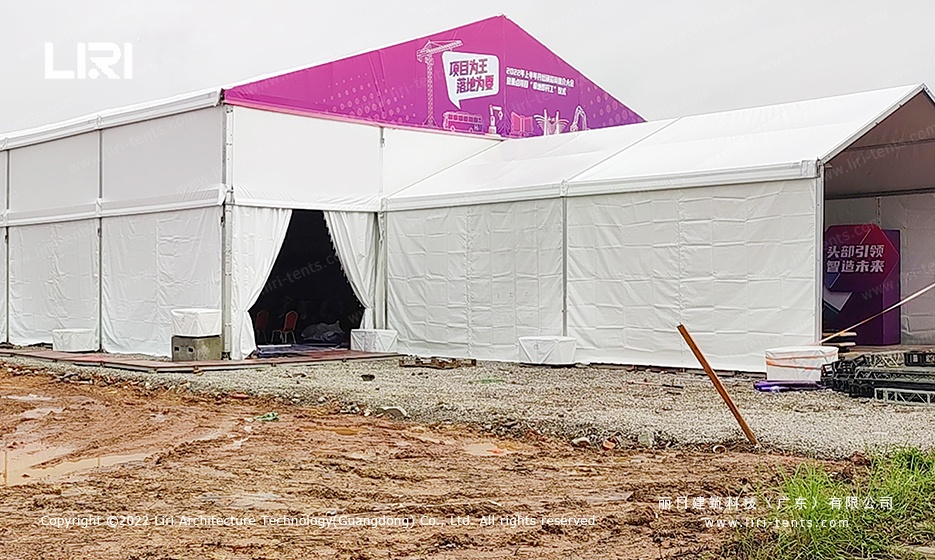 It is inevitable that some large meetings and events will be held outdoors. With unpredictable weather, it is essential to have a temporary space that acts as a shelter. A professional clear-span event tent is a perfect choice. Large conferences and outdoor events can be amazingly effective with a fully designed conference tent.
Liri-tents is a reliable one-stop solution for clear-span conference tents for annual meetings, business conferences, and corporate events around the world. Our event tents are flexible and can create the right and perfect temporary space for you. The event tent in this case measures 20m wide, 40m long and 4m high inside and is covered with white PVC fiber fabric.
This tent provides a large temporary space for a business project for 300 people on site. The size of the tent was set at 20x40m after a pre-configuration survey, and the number of equipment and the number of people to be accommodated allowed all the equipment and guests, staff, etc. to fit comfortably. We provide a wide range of additional equipment such as flooring/carpeting, lighting, entrance advertising panels, ceiling padding, and air conditioning.



All-In-One Commercial Conference Tent Solutions
Liri-tents conference tents can be used for both business and leisure, with PVC fiber fabric hanging around the tent and glass doors allowing sunlight to stream throughout the space. Inside, chandeliers, curtains, and fans can be installed and bespoke air conditioning can be placed on either side to maintain an airy environment. The benefits of an outdoor meeting are a quicker view of the actual environment, easier distance, and improved communication. Such special business meetings can make a greater impression.
Conference Tent Feature
Frame struts: hard-pressed extruded aluminum 6061/T6(15HW).
Fabric cover: high-quality double PVC-coated polyester textile; 100% waterproof; flame retardant to DIN4102 B1, M2, CFM; UV resistant, tear resistant, self-cleaning ability, etc.
Connector: strong hot-dip galvanized steel
Allowed temperature condition: -30 degree Celsius +70 degree Celsius
Wind load: max. 100km/h
Snow load: 75kg/sqm (snow can't stay if use big degree roof pitch design)
Easy to assemble and disassemble
No pole inside, and 100% available interior space.