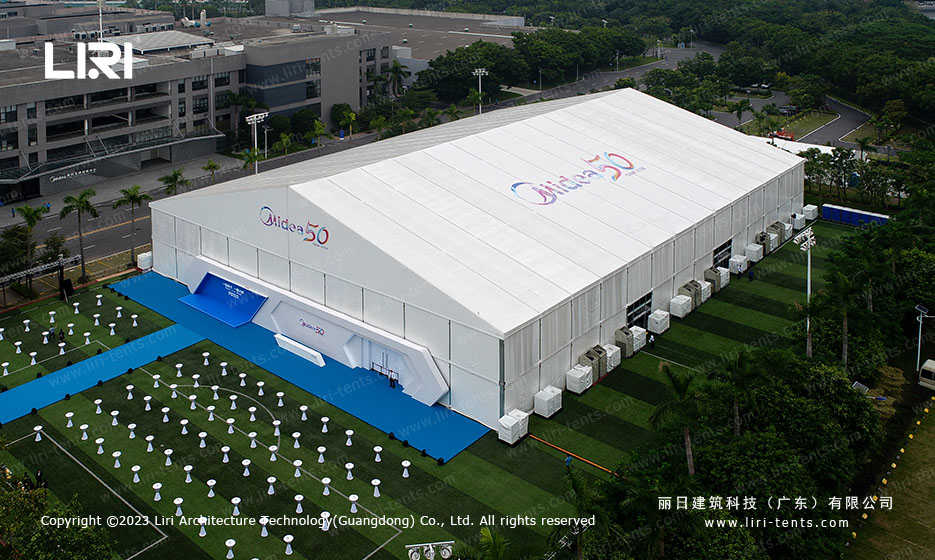 Recently, recyclable architectural designs have been appearing in the work of mainstream designers. The clear-span event tent has gained great recognition and widespread use as a large category within recyclable, man-made architecture.
The uses and applications of clear span tents are extensive. Examples include popular sporting event venues such as basketball arenas, football stadiums, and equestrian arenas. Temporary spaces for commercial events in cities, art exhibitions, film exhibitions, themed event exhibitions, and many more. It can also be used for groundbreaking ceremonies, car shows, wedding ceremonies, beer festivals, food festivals, and some other large outdoor events. Even in industry, for example, industrial warehouse tents, environmental work tents, etc.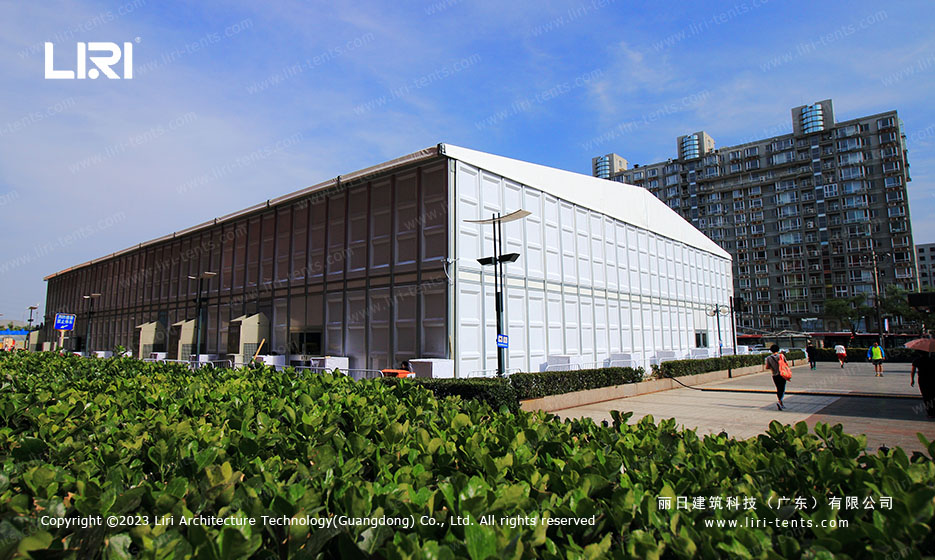 There are no unnecessary applications and approvals for the erection of event tents, which will save a lot of time. Unlike traditional fixed structures, the clear span event tent is a category of temporary structures. It can be installed and dismantled incredibly quickly, so there will be no strong regulation by the relevant authorities. With a modular design, tent modules can be freely combined and matched. Compared to fixed buildings, tent buildings can be erected and completed more quickly and can be repeatedly pitched and dismantled, and relocated for recycling at any time. Therefore, cost-effectiveness, plasticity, and diversity of appearance have become the labels of clear span tent buildings.
Clearspan Event Tent Advantages
1, modular design, and shape can be freely combined and matched.
2、Assembled construction, adding practical equipment according to demand.
3. self-selecting tarpaulins in a wide range of colors.
4. reinforced aluminum brackets that can withstand winds up to force 8.
5, clear span temporary construction, adaptable to different ground types for installation.

Bespoke event tents for up to 1000 people
Our clear span event tents are not only selling well in Europe in the USA but also in South America and Asia. The excellent results and excellent value for money have led event businesses to use event tents for every event. Whether it is an event tent with a capacity of 200, 500, or 1000 people, or a party tent, we can arrange the production of materials, transport, and installation for you as quickly as possible after you have made your purchasing choice. It is worth noting that for short-term events, most tent factories will offer proposals for the sale and hire. This can save the organizer a great deal of money and the worry of storing materials.
For wholesale 1000 people event tents, you can find many products on 1688 and Amazon. However, clear span event tents are different from less than camping tents and are not a mass consumption product. Setting up a 1000 people event tent requires knowledge of the site, ground type, wind direction, size, shape, accessories, shipping, installation, aftercare, and many other tasks. We recommend contacting us via the form on the website. We will be happy to provide you with a comprehensive and complete customized event tent service.