The clear span tent is a magical structure. We can add another floor on the basis of the single-floor tent to double the available space. By using the Double Decker Tent, you can get twice the event space.
In the city center with limited ridge height and area, it not only meets the needs of vehicle exhibition but also the actual office. The small and exquisite tent shape is also harmonious with the on-site environment.
The mainframe of the tent is made of high-strength aluminum alloy (T6 series, the highest international standard), and the roof cover uses the PVC double-coated membrane, which has the advantages of being non-stretching, waterproof, flame retardant (meeting EU standards of B1 and M2), etc. High-strength tempered glass is installed on the wall of the second floor, which is beautiful and fashionable. In addition, an additional advertising enclosure is added to create a flat-roof Double Decker Tent.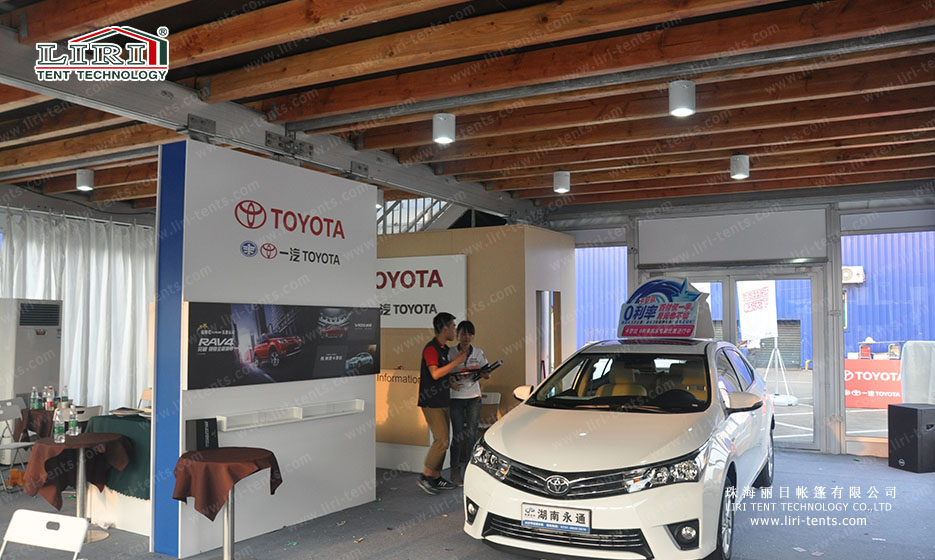 In this auto show event tent, the vehicle exhibition is placed on the first floor, and the second floor is used as the negotiation area, equipped with air conditioning, carpet, lighting, interior decoration, and other supporting facilities. that'll bring customers a high-quality exhibition viewing experience!
The interior of the double-deck tent does not have any center poles. So it has 100% space usage whether it is the upper or lower level. In addition, double-decker tents can also be used for large restaurants, VIP reception areas, offices, etc. It can even continue to be used as a semi-permanent temporary space.
Exhibition Tent Series Specifications