Search for party tents on Google and Amazon and there are so many results for different types of tents. For someone who desperately needs to buy a tent, this is a really tough choice.
With only a few days of event time to purchase a brand new event tent, it is obviously not cost effective. At this point, choosing a 90% new event tent is very much in line with expectations.
So, let's talk about how to find quality and cheap used event tents.

The purpose of renting used tents
This largely determines the type and cost of tent rental.
For small parties, people are used to using elaborate or luxurious tents. Generally, this refers to high-value events such as weddings, VIP banquets, auctions, etc.
For small business events, such as carnivals, movie themes, and temporary sales halls, it is recommended to choose a medium-sized event tent for 200 people. Event tents of this size have the largest supply and generally the best prices.
Renting a tent should provide more space, not just enough. In fact, in addition to the main visible space, there are many items and equipment that need storage space. Larger spaces can also help you use your imagination when designing spaces.
Determination of attendance
For daily small parties of less than 100 people, the simple A-shaped roof tent can meet most of your needs. If it is a banquet or wedding party, then the all black frame, transparent event tent is a good choice.
For large parties and events with more than 500 people, the economical and practical A-shaped roof tent is definitely the first choice. Although the appearance is simple, many features and equipment can be added, and the rental cost is low.
Usually, air conditioning, electricity, lighting system are the necessary functions of the event tent. Large tents have higher requirements for ventilation and electricity, which requires a separate equipment room.
The prices for renting used event tents
Used tents are definitely less expensive than new tents.
Most events are held for a short period of time and it is not cost effective to purchase a large tent. Therefore, tent manufacturers all have tent rental services with cheap prices and good service. Site planning, quick installation, after-sales service will be very professional.
Strong tent manufacturers have more types and sizes. For example, crossover & hexadome tent, modular cube tent, combination tent, glamping tent, and so on. Tent sizes range from 50, 100, 300, 500, or even more than 1,000 people.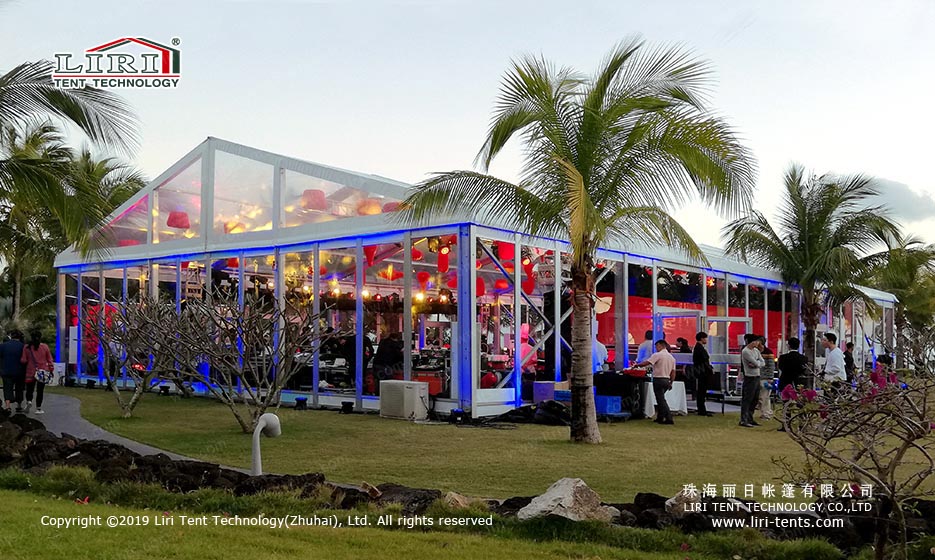 As a large tent manufacturer, Liri tent has undertaken many large projects in different countries. Such as America, Thailand, Paris and so on. Each successful case is a symbol of our strength.
The frame of our event tents is made of high-strength aluminum alloy with a wind resistance of 120km/h. The fabric is made of double coated PVC or PVDF coated polyester fabric, which has excellent performance of wind resistance, waterproof, flame retardant and anti-UV, safety and reliability to reach the standard of similar products in Germany.
For more information, please contact Event Tent Rental Service.
Product Specification
| | | | | |
| --- | --- | --- | --- | --- |
| Span Whidth | Eave Height | Ridge Height | Bay Distance | Main Profile |
| 10m | 5m | 5.58m | 5m | 204x120x4mm (4 - channel) |
| 15m | 5m | 5.89m | 5m | 256x121x5mm (4 - channel) |
| 20m | 5m | 6.2m | 5m | 256x121x5mm (4 - channel) |
| 25m | 5m | 6.5m | 5m | 256x121x5mm (4 - channel) |
| 30m | 5m | 6.8m | 5m | 300x120x5mm (4 - channel) |