Nowadays, most wedding ceremonies are held in hotels, always the same process and the same atmosphere. And more and more young people are tired of this. And the data shows that more and more people get married in recent years. So it is very hard for the bride and bridegroom to find a suitable hotel to have the ceremony, so they are forced to change the date or change to other hotels.
Have you ever thought of a new form wedding? –holding wedding ceremonies in marquees. Holding weddings in marquees can not only solve the problem of limited place but also provide a special lifetime good memory about the wedding for you. Compared with hotel ceremony, holding weddings in marquees are more flexible.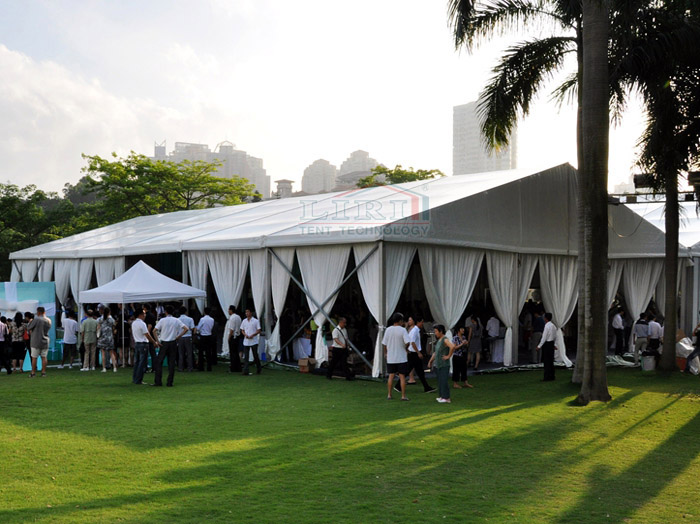 No place and scale limited, Indoor or outdoor,100 people or 1000 people, you can choose them by yourself. Holding weddings in marquees is also no time-limited. You can set up the wedding marquees one or day before the wedding, and you can control the time of the party by yourself.
The website only shows partial of our aluminum tents, we can also make customized tents exactly according to your requirement. If you are interested, please contact to get our brochure. event tents for sale
LIRI wedding tents are extremely versatile and are ideal for any party from backyard weddings to royal weddings. Our beautiful and durable wedding tents will impact the bottom line of your wedding ceremony. Our unique designed glamorous party tent with sculpted high quality decoration creates an attention-getting silhouette. The wedding tent is easy to install, lighter to transport and has fewer stakes to pound. Ease, durability, and aesthetics are combined in the design of our wedding tent.
2014 Unique Luxury Wedding Tent can give you a romantic and memorable wedding who holding wedding outdoor. Nowadays now, more and more people would like to hold weddings outdoor instead of in hotels. They broke the traditional customs to hold weddings on the beach instead. However, it's the problem that they could exposure in the sun, it's terrible. Don't hurry, The fabric of the wedding tent has 650g/sqm PVC coated fabric with  UV-resistant, and the main profile of 120*300*5.5mm Aluminum alloy(4 channels) with 120km/h wind loading. Therefore, you can feel at ease in holding weddings outdoor if you have this wedding tent.