Perhaps the tents find their most common and frequent use during events, be it birthdays, trade fairs, craft exhibitions, fetes, weddings or wedding rehearsal parties. Event tents are available in a variety of colors and sizes and a great choice for any event. In addition to dazzling colors, event tents also offer protection from not only weather but also from fire. Most tent covers are certified by the State fire Marshall of the respective state as being fire resistant. Whatever the event, a tent could give that aesthetic appearance while serving the purpose of a comfortable shelter. These tents look elegantly appealing while keeping the set up open and shaded. The kind, size, color and design of the tent of course depend upon the scale of the event and the gathering involved.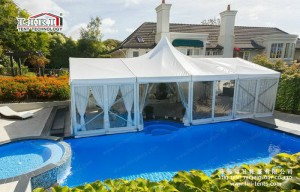 A frame tent is preferable for smaller gatherings and a pole tent for large gatherings. Traditional party tents, capri party tents and garden canopies are some of the options available. The weather conditions are a prime consideration while picking an event tent. So the tent does not collapse or give away, it is often held down using weights on the sides that may be complemented with ropes.
Event tents are strong and durable and can assume nearly any configuration to meet the demands of the occasion. The event may use a single or several event tents, as per the requirements, the sizes of which could vary. Event Tents are usually available in widths from 20′ to over 200′. Their modular design allows for limitless configurations. Sections are laced together and are covered with snap-down rain flaps. These are the Original "push pole" tents, specifically designed to shelter, protect and enhance special events. Custom event tents are yet another option for those with rigid specifications.
Most event organizing firms offer tents as well. However, tents are not a good option during extreme or harsh weather conditions.
https://www.eventtentsforsales.com/choose-right-wedding-tents.html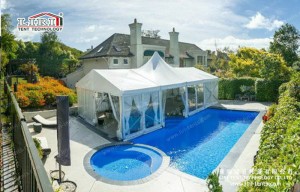 Contact us:
Chloe Yu
Mobile: +86 188 1865 0996
Office: +86 756 6320929
Email: tent70@liri-tents.com