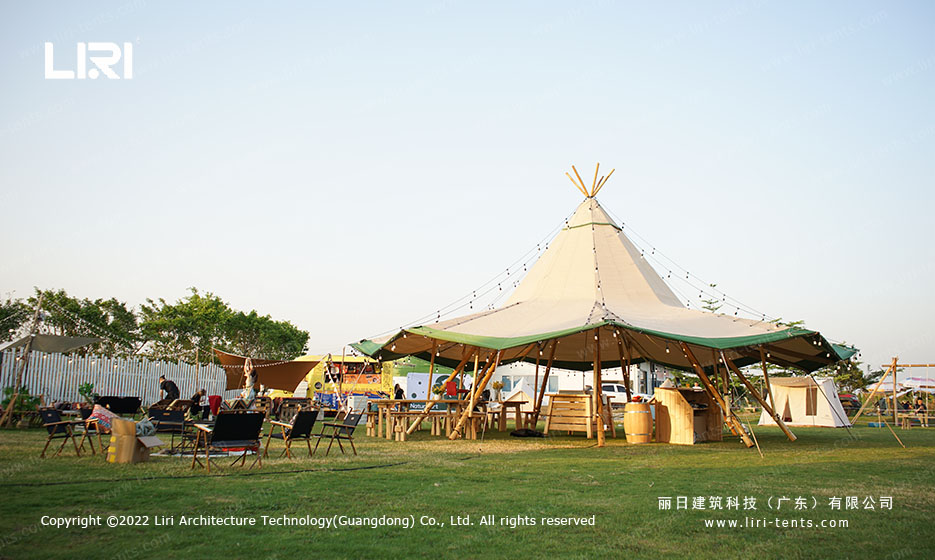 In the summer, people fall in love with the unrestrained outdoors and camping – tipi tents are just what they need for camping, partying, and dining in the great outdoors. You may ask: Is there a camping tent where you can stay without any luggage? Is there a camping hotel where you can enjoy elegance and grandeur? We have compiled different types of cases used for tipi tents to help you understand its benefits more quickly.
First of all. tipi tents can be classified according to the number of users and functions. 2 people, 6 people, 10 people, and 20 people belong to small camping tents, Small tipi tents for party and camping.. 50 people, 72 people, 100 people, giant hat tipi tents, combined tipi restaurant, etc., belong to commercial category tents.
Considering a family outing or an outdoor trip for 6 people, it is right to choose a tipi camping tent designed for the number of people. If it is a commercial plan for outdoor camping, it is recommended to pick a large tipi tent according to the size of the camp. The difficulty of installing tents varies by size. Small camping tents can be installed by only 3 people. Large tents require the assistance of heavy machinery. Large size tipi tents may weigh up to 100kg.
Tipi Tents For Party, Restaurants
In the business plan of the outdoor camp, the camp restaurant is one of the key buildings. Unlike restaurants in town that provide catering services. The camp restaurant is more of an important place for barbecues, parties, and entertainment. For the manager, the camp restaurant is even a significant source of revenue, with customers willing to pay for its features. These features include a full set of wooden furniture, audio-visual facilities, bar design, lighting atmosphere, restaurant service, etc.
You can DIY your own elements to the tipi tent! Tables and chairs are moved to the sides, round tables and birthday cakes are placed in the middle, rainbow ribbons hang from the wooden poles and colorful balloons are enveloped inside. It is easy to create the illusion in the mind that space is always fixed. In fact, think differently. Our clients have hosted outdoor weddings, children's book clubs, family gatherings, movie screening rooms, and many other types of events in the tent.
Large Tipi Tents For Business Programs
Large tipi tents are common in outdoor commercial projects. Combine 2 to 5 individual tipi tents together. Of course, they are not a single tent, but a combination of connected tents, with edges that can be lifted off. In theory, any similar tents can be combined in this way. In the design of the aisle, two new wooden poles are added to support it. However, the disadvantages are also obvious. When it rains, the seams at the combination may leak. And this part is less resistant to wind.
This creative combination is a good solution to the anxiety of not having enough space for a single tent. It has enough space to rival a fixed building. It has also inspired the exploration of large tipi tents for functional and put to commercial use. Examples include outdoor classrooms, outdoor restaurants, outdoor pavilions, outdoor offices, etc.
In terms of cost, tipi tents are not cheaper than traditional erection – perhaps other large tents are more cost-effective. For commercial projects, you can safely choose the cheaper tipi tents. People are usually willing to pay a higher price for things and services that go beyond what is expected. When setting up a project it is more important to have a holistic plan of the functions, areas, design, and features of the camp.