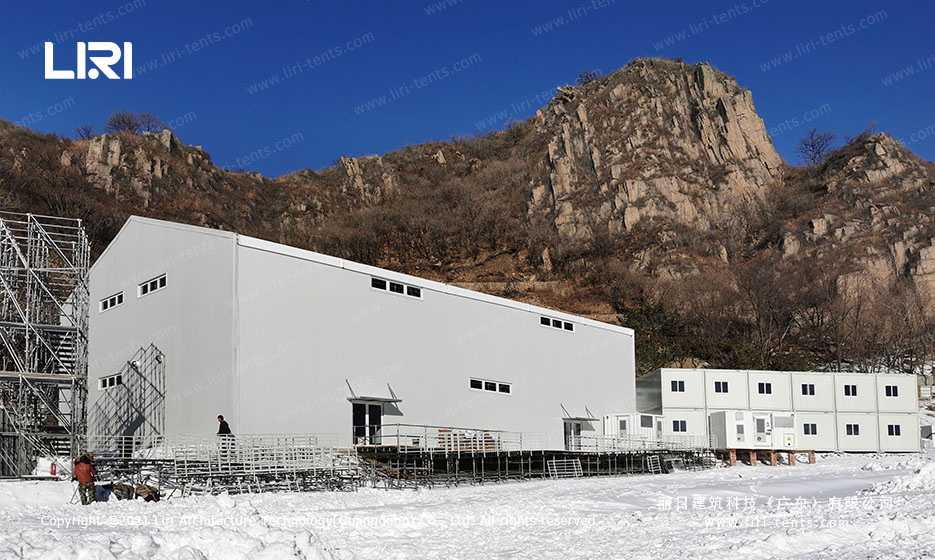 Just this past winter, we encountered low-temperature weather of -20 degrees. How to set up a 30m clear span event tent in this extremely low-temperature weather? How to keep the claer span tent warm and insulated? We have a new answer!
Participating in a major winter sports competition is an exciting event for many skiers. Our team set up a straddle tent in the middle of the mountains that can withstand 12 gusts of wind, withstand temperatures as low as -20 degrees, and be used semi-permanently. Such conditions have stringent requirements for the insulation, snow load resistance, and wind resistance of the clear span event tent.
Tent construction process
This time, our company manufactured and installed the assembled canopy with the advantages of free splicing, warmth, and cold-proof. The whole canopy took more than 4 months from design, production, transportation, and installation.
The canopy roof of the tent was made with a three-layer design, using PVC tarpaulin inside and outside, while 75mm glass wool insulation was used in the middle. The walls of the canopy are sealed with construction, and the middle of the sandwich panel wall is made of 120 kg/m3 A-grade rock wool, which greatly strengthens its solidity. The floor is combined with light steel keel + 75mm glass wool + two layers of plywood + a loop pile carpet. Through the above series of designs, the insulation effect is remarkable in the winter environment of -15 to 20 degrees.
In terms of the safety of the canopy, the purlins are encrypted on the basis of expansion screws, steel brazing, and professional load-bearing system. This strengthens the wind and snow resistance of the canopy and the solid ability. The safety factor of the whole canopy has been greatly improved.
In addition, the tent indoor supporting perfect, basic water and electricity configuration, heating communication, fresh air system, fire safety. At the same time, has a good power supply system, can be installed according to demand for electronic screens, audio, air conditioning, lighting, and a series of equipment.
Winter Event Tent Series Specifications
| | | | | |
| --- | --- | --- | --- | --- |
| Span Whidth | Eave Height | Ridge Height | Bay Distance | Main Profile |
| 10m | 6.75m | 8.50m | 5m | 300x120x5mm (4 - channel) |
| 15m | 6.75m | 9.34m | 5m | 300x120x5mm (4 - channel) |
| 20m | 6.75m | 10.17m | 5m | 300x120x5mm (4 - channel) |
| 25m | 6.75m | 11m | 5m | 300x120x5mm (4 - channel) |
| 30m | 6.75m | 11.75m | 5m | 300x120x5mm (4 - channel) |
| 40m | 6.75m | 13.5m | 5m | 300x120x5mm (4 - channel) |