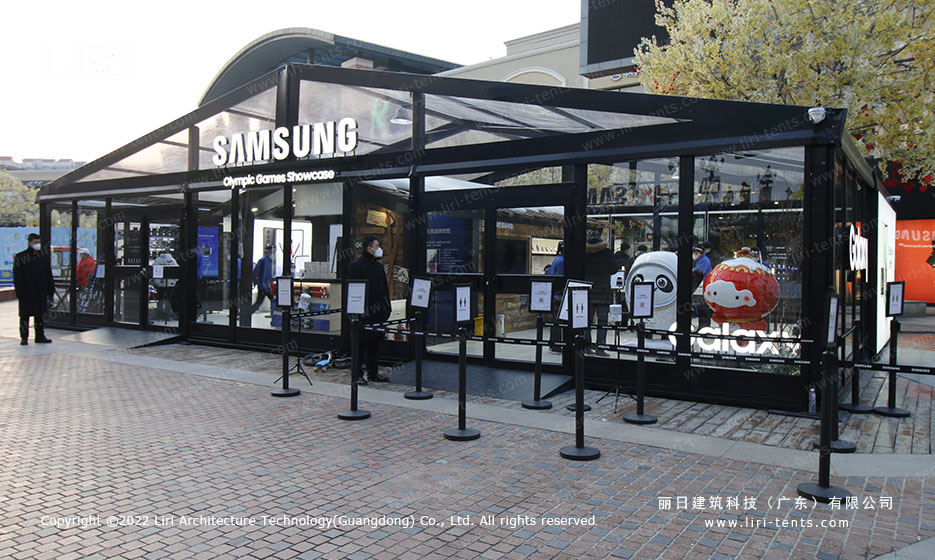 The Event Tent is made of a customized hard-pressed black aluminum framework and clear PVC fabric. The first impression of the black clear tent is clean and neat. As the roof cover is fully clear, you can see the inside layout and decoration at a glance.
The brand party is very clever. In order to give the temporary exhibition hall a better visual experience, they mounted big advertising lighting boxes on the sidewalls. The "principle of minimalism" of advertising law is applied to the extreme.
The supporting facilities of the temporary exhibition hall will maintain independence which not affect the operation of other merchants. Even the outdoor temperature close to 0 degrees will not stop the use of the lights, ventilators, electric heaters, and other equipment. That is the reason why our Event Tents are popularly used for more and more conferences, celebrations and sports events. Family party tent hire
The most attractive thing about the black Transparent Tent is that the bright lights radiate from the inside at night. Its sparkle can be seen from all directions. Every window with light through attractive pedestrians, make the event realize its greatest value.