Liri Tent's Warehouse Tent is a cost-effective and efficient solution for any industrial or storage project. Our innovative design provides ample height and exceptional clearance to meet all your industrial and storage needs. Our clear span warehouse tent structures have no internal pillars, allowing forklifts and heavy machinery to move effortlessly for maximum usable space.
Therefore, warehouse tent structures are a superior option to wood or steel structures. Liri industrial tents last over 10 years and can be set up on various ground types, including asphalt, concrete, and grass.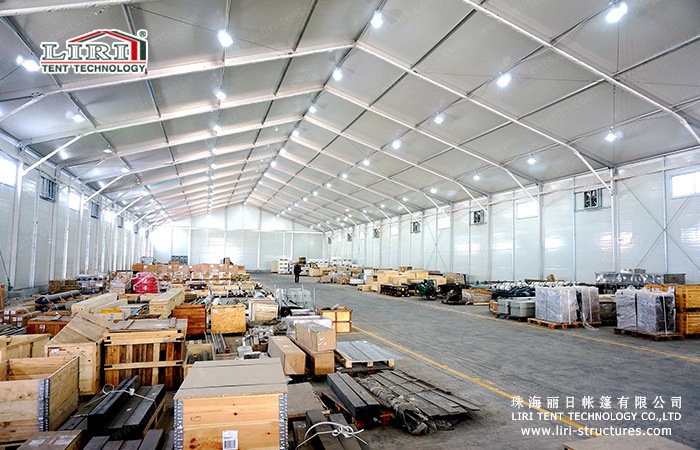 Whether you require a lasting manufacturing facility or expanding business demands a provisional structure, Zhuhai Liri Tent has the perfect answer. Our tents are designed for construction companies during the off-season. They provide flexible space distribution, which saves money on renting additional space, remote work, and other hidden costs. Additionally, our warehouse tents can be built on any surface, such as asphalt, concrete, or grass, without requiring a permanent foundation.
Tents are more flexible and economical than traditional steel structures and buildings, and they do not require the necessary land permits.
They also require fewer basic conditions, resulting in lower costs and simpler, more affordable maintenance. The most important feature of Liri Warehouse Tents is their modular architecture, which provides a solid foundation for integrated storage tents. These tents can be customized for industrial use according to your needs.
The warehouse tent comes in sizes ranging from 5m-40m and is easily customizable to fit the client's needs. It is cost-effective, mobile, and very convenient. The tent can also be fitted with different sidewalls to accommodate various goods. The most in-demand size is 20x50m.